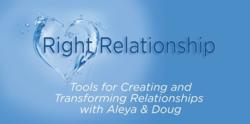 Just because couples fall in love doesn't mean they know how to be in relationship
Los Angeles, Calif. (PRWEB) October 15, 2012
Husband and wife team Doug Noll and Aleya Dao announce their upcoming "Right Relationship" Webinar series for couples October 28, 6pm Pacific. "Just because couples fall in love, doesn't mean they know how to be in relationship," says Aleya Dao, spiritual adviser and energetic healer. "These Webinars teach couples the skills needed to communicate, develop emotional intimacy, and create a strong bond that will withstand life's challenges," Noll adds.
As a professional mediator and award winning peacemaker, Doug Noll brings his knowledge and wisdom from mediating conflicted groups, businesses, and personal grievances. "From each of our professional clients, my wife and I discovered a deep yearning for help in the areas of intimacy and communication. Divorce is a cultural norm, and we believe that makes couples give up easier. Happiness is not achieved from relationships ending, happiness comes from working through issues together using our relationship tools. When conflict resolution skills are learned and implemented, couples have the opportunity to create emotional intimacy," Noll explains.
"Our natural tendency is to blame our partner if we are not happy or our needs are unmet. We teach couples how to be self- aware, take responsibility for and create mastery over their feelings and reactions. This is a really big step towards creating a safe emotional space within the relationship," Dao explains.
The upcoming Webinar is the third one in the popular series. Because of demand "Right Relationship" Webinars will be held monthly on a regular basis. "We found that couples don't seek help to develop relationship skills until they are ready to throw in the towel, and hire a therapist. Our series is for couples to fine tune their relationship so that it doesn't reach the breaking point. When a couple consider calling it quits, it is very difficult to turn it around. Often the damage is irreparable. We offer a guided structure to keep relationships on track and show how emotional intimacy is developed and maintained," Noll says.
Noll and Dao's Right Relationship Webinar Series are honest, serious, fun, enlightening, and fill a need for couples who crave closeness but are unaware of the skills needed to achieve emotional intimacy. Couples can register for the series at http://www.aleyadao.com/catalog/products/Relationship-Series-with-Aleya-and-Doug/541/
Douglas Noll is the winner of the International Peace and Justice Book Award for Elusive Peace: How Modern Diplomatic Strategies Could Better Resolve World Conflicts (http://www.amazon.com/Elusive-Peace-Diplomatic-Strategies-Conflicts/dp/1616144173/ref=sr_1_1?s=books&ie=UTF8&qid=1339101596&sr=1-1). Doug is the 2012 winner of the CLAY award for co-founding the pro bono project Prison of Peace. Doug is a keynote speaker and sought after leader in the field of international, domestic and business conflicts. Doug is a sought after interview guest on TV and radio, and a keynote speaker and workshop presenter. Doug is a full time peacemaker and mediator.
Aleya Dao is a sound healer, energetic practitioner, Minister in the state of California, Doctor of Oriental Medicine in New Mexico, and a Licensed Acupuncturist in Colorado. She has been an alternative healer for 20 years. She now serves an international clientele as a spiritual guide and sound healer. She produces the daily CUPS OF CONSCIOUSNESS meditations, subscription-based guided meditations. http://www.aleyadao.com. For interview and further information contact Inspired Media, http://www.inspiredmc.com or [email protected]