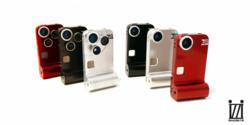 Huntington Beach, CA (PRWEB) October 10, 2012
iZZi Gadgets, an accessories manufacturer for Apple Inc. products, has announced that they have surpassed their funding goal on the Kickstarter crowd-funding platform. The iZZi Orbit and Solo for the iPhone 4/4S and iPhone 5 are now available to pre-order via the iZZi Gadgets online store.
Shipments for early adopters that placed orders via Kickstarter will be delivered for the iPhone 4/4S mid-November and for the iPhone 5 in early December. iZZi Gadget's online store is now open and taking orders for the Orbit and Solo.
"I am extremely excited to have surpassed our goal and get this project underway," said Jayson Guzman, founder of iZZi Gadgets. "I would like to thank all of our supporters for their faith in our products. We can't wait to get our products out the door and into people's hands."
iZZi Gadgets are available in two styles, the iZZi Orbit and the iZZi Solo provide iPhone 4/4S and iPhone 5 users an enhanced experience in conjunction with the iPhone's photo and video capabilities. The iZZi Orbit combines the ingenuity of Peripheral Motion Lock Technology (PMLT), an easy to use lens selector integrated with three interchangeable lens options, telephoto, fisheye and wide-angle. The iZZi Solo contains the same features as the Orbit, but without the Peripheral Motion Lock Technology. The Solo will retail for $129.99 for the iPhone 4/4S and $139.99 for the iPhone 5. The Orbit will retail for $229.99 for iPhone 4/4S and $239.99 for the iPhone 5.
iZZi Gadgets Orbit and Solo offers a host of features that both complement and enhance your iPhone 4/4S/5 experience, including:

Sure hand stabilizing grip (SHSG)
Dual casing protection
Made of anodized aircraft aluminum
Loaded with three tripod mounts
Includes a protective sleeve, wrist lanyard, microfiber cleaning cloth and accessory mates
Available in red, black and silver
Apple, iPhone 4/4s, and iPhone 5 are registered trademarks of Apple Inc. in the U.S. and other countries.
For more information visit: http://www.izzigadgets.com
Follow iZZi online:
Facebook: http://www.facebook.com/izzigadgets
Twitter: @izzigadgets
Instagram: @izzigadgets
Press contact:
John Pangilinan
john@jpangilinan.com
ABOUT IZZI GADGETS
Izzi Gadgets, Inc. is a premium mobile accessory manufacturer based out of California. We produce state of the art camera/video & casing accessories for mobile phones and tablets. iZZi Gadgets is committed to environmental stewardship; all of its products and packaging are designed with an effort to reduce the impact on our planet.