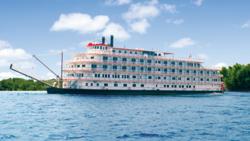 They loved the intimacy onboard, the large staterooms and beautiful lounges...I rebooked most of my clients before they disembarked. - Phyllis Dale, co-owner, Great Escapes Travel
Guilford, Conn. (PRWEB) October 11, 2012
American Cruise Lines (http://www.americancruiselines.com), operator of the newest riverboats and small cruise ships in the United States, is pleased to announce the great success of its inaugural season on the Mississippi River, with its brand new 150-guest paddlewheeler, Queen of the Mississippi. The newly offered cruises have received high praise from guests, with five-star service, spacious staterooms and a friendly crew being among the top-cited reasons for the highly rated experiences. Additionally, the river towns along the Mississippi and Ohio Rivers have warmly welcomed and continue to welcome Queen of the Mississippi with much appreciated support and enthusiasm.
"My clients were extremely excited to board the Queen of the Mississippi. The majority of my group aboard the christening cruise had booked nearly two years in advance," said Phyllis Dale, co-owner, Great Escapes Travel, and godmother of the Queen of the Mississippi. "They loved the intimacy onboard, the large staterooms and beautiful lounges. They also enjoyed the entertainment and delicious regional menu items, and were truly pleased with the extensive knowledge of the onboard riverlorian. I rebooked most of my clients before they disembarked."
During the eight-day journeys, guests enjoy Queen of the Mississippi's numerous and distinct amenities, including the most spacious staterooms in the industry and private balconies with sliding glass doors. Seasoned cruise passengers also voiced their appreciation for American Cruise Lines' exclusive, open seating dining plan, which allows guests to enjoy meals in a single seating or at the time of their choice, while surrounded by panoramic views of the River. For the duration of each cruise, an all-American crew caters to passengers' every need, while daily educational events and themed entertainment help paint a picture of what life on the Mississippi was like in days gone by.
"With Queen of the Mississippi, we have improved a classic American experience and brought a style of cruising to the Mississippi River that so many have been anxiously waiting for," said Timothy Beebe, Vice President, American Cruise Lines. "We look forward to many more seasons to come."
About American Cruise Lines
American Cruise Lines, the largest U.S. cruise company, operates the newest fleet of riverboats and small cruise ships in the industry and offers more than 35 unique itineraries along the rivers and inland waterways of the Pacific Northwest, Alaska, the Mississippi River and the U.S. East Coast, from Maine to Florida. To learn more about American Cruise Lines, visit http://www.americancruiselines.com or call 800-814-6880. Find us on Facebook at http://www.facebook.com/americancruiselines or follow us on Twitter at http://www.twitter.com/american_cruise.
# # #