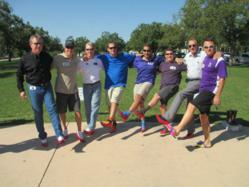 We're always looking to help in any way we can. Even if it involves walking in high heels.
San Antonio, TX (PRWEB) October 16, 2012
Kinetico Water Softeners of San Antonio took a fashionable step toward ending gender violence by participating in Walk A Mile In Her Shoes: The International Men's March to Stop Rape, Sexual Assault & Gender Violence. Men decked out in high heels took to Main Street in Boerne, TX for a mile-long walk in support of a united gender movement.
"I was connected to the Kendall County Women's Shelter through my church," said Kinetico owner Chris Knippa. "We donated a water softener to the shelter in the past and we're always looking to help in any way we can. Even if it involves walking in high heels."
The movement began in 2001 as a small group of men sharing their message in a park and soon became a worldwide event. It has since raised millions of dollars for domestic violence shelters, rape crisis centers and sexualized violence education, remediation and prevention. Men can register to strut their stuff in a local walk or even organize their own walk to help support a local organization. Tens of thousands of men have already made the walk with hopes of inspiring the masses into not only talking about the issues and taking action against them. The high heels serve as an eye-catching way to get people to ask questions and seek answers.
"The mile took just under an hour of sheer pain and two large blisters to finish," said Knippa.
Knippa, who completed the walk in the organization's signature fire engine red high heels, didn't train for the event, but received a humorous tip from his wife.
"Shay gave me the advice that if I was to go down, to just go with it and drop and roll," Knippa said.
Kinetico Water Softeners of San Antonio sells the most-efficient water softeners and drinking water systems on the market. They have been serving San Antonio and the Texas Hill Country since 1970. For more information, visit kineticosa.com.