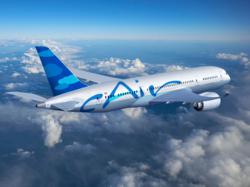 "We are constantly on the alert for painpoints in people's lives. We have looked deeper and deeper into the human condition and it has opened our eyes into things we have never seen before." said Ravi Sawhney, RKS Founder and CEO
Thousand Oaks, CA (PRWEB) October 11, 2012
cAir (pronounced "care") is a service design concept that eases the burden of air travel for families, making the journey more enjoyable for everyone. A proactive initiative by the strategic design consultancy RKS, cAir was a venture built organically from the ground up. They architected a new flying experience, based on the real-life challenges of family travelers; a stark departure and inspiration for an industry traditionally focused on efficiency.
In a context of economic downturn and soaring fuel prices, the travel industry faces increased costs and more price-sensitive consumers. Most airlines are reacting by cutting costs via the curtailing of services and amenities. Is this the right move to save profitability? The success of consumer-centric airlines such as Southwest is a hint that another path is possible. And even better, profitable. Families are an overlooked minority of travelers and no airline provider has made a move to address their special needs. RKS designed a service venture that would address these needs, in hopes of inspiring change in the airline industry. "We are constantly on the alert for painpoints in people's lives. We have looked deeper and deeper into the human condition and it has opened our eyes into things we have never seen before. In the case of cAir, it became apparent to us that we need to do something about it," said Ravi Sawhney, RKS Founder and CEO.
In order to create the best solutions for family travelers, the RKS team immersed themselves into the struggles and challenges experienced during air travel. By interviewing parents and shadowing passengers, as well as researching blogs, articles, and social media sites, a holistic perspective of family travel was uncovered. Contrary to common belief, a consumer's journey is not isolated to the airport terminal and in-flight cabin, but begins with the very decision to plan a family trip. It is a cyclical process that spans pre-flight preparations, airport check-in, on-board experiences, luggage retrieval, and arrival at the ultimate destination. Throughout this cycle, families are subjected to more challenges than the average traveler such as inadequate storage for strollers and car seats, cramped changing rooms, lack of privacy, and confined spaces. "Normally when your child is distressed, there is space for you to go and walk it off, but in a plane the stress level goes up because you're stuck in this small space with lots of strangers. There's this anxiety and fear of 'what if I can't calm them down?'" said Lance Hussey, Creative Director at RKS.
Looking specifically at the in-flight experience where family travelers spend a bulk of their time, RKS generated a service design blueprint based on six key touchpoints of the in-flight experience: entertainment, ambience, food, seats, lavatory, and storage. Solutions are engineered for each touchpoint including a rent-a-toy service to keep children entertained during their trip, sound curtains that allow privacy for parents to soothe children at their seat, and diaper-friendly lavatories large enough to fit parent and child while configured ergonomically for kids.
The RKS team established a style guide to ensure all prototypes and communications adhere to the brand identity, thereby imparting a consistent and seamless consumer experience. All manifestations such as airport signage, kiosks, boarding passes, and digital product extensions are in harmony with the visual guidelines and cAir's core values of relax, entertain, and nurture. "Thinking through these comprehensive system-level issues, as well as the manifestations of solutions for individual touchpoints, reflects our user-centered approach and capabilities. These solutions are designed to be universally relevant across digital and physical platforms," said Harnish Jani, Director of Design Strategy and Research at RKS, "Importantly, imagine such solutions created in a similar fashion for a different industry."
Through the building of service designs such cAir, RKS continues to strive for individual and professional growth. "We are dedicated to progressing our thinking and the ability to advance ourselves both as a consulting firm and a learning institution," explains Sawhney, adding "We are constantly teaching, learning, and expanding; that's what keeps us all here." For the RKS team, like the family travelers, cAir has been all about the journey, and not the destination.
Read the full cAir case study online at http://rksdesign.com/project#cair
ABOUT RKS
Founded in 1980 by Ravi Sawhney, the RKS team has created disruptive design and innovation for clients like Unilever, PepsiCo, LG, Medtronic, JBL, HP, and many others by focusing on consumer aspirations and psychology while utilizing the Psycho-Aesthetics® methodology. RKS leverages insights to create strategies, build brands, and achieve bottom-line successes for our global clients, and empowers consumers with compelling designs and experiences. Based in southern California, RKS has a legacy of using strategy to drive design that delivers, experiences that excite and innovation that ignites viral, global demand. Whether helping Fortune 500 or start-ups, we develop solutions that build upon businesses priorities and empower consumers, and in doing so, create 'heroic evangelists' who feel compelled to share their experience with others.
Find out more at http://rksdesign.com/