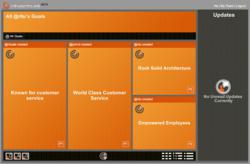 "A mere 7% of employees today fully understand their company's business strategies and what's expected of them in order to help achieve company Goals."
San Francisco, CA (PRWEB) October 11, 2012
Last year, small and medium-sized businesses accounted for 54 percent of America's workforce, and 64 percent of all job creation, according to an infographic by Good and IBM. With more than 63.1 million people employed by small and medium businesses, performance management of both employee and company goals and objectives is integral to ensuring all workers add productivity and value to an organization's bottom line.
Lee Iacocca said, "the ability to concentrate and to use your time well is everything if you want to succeed in business--or almost anywhere else for that matter." For many businesses, using time wisely something every employee must do.
Yet according to Robert Kaplan and David Norton, only seven percent of employees today fully understand what they must do to help achieve their organizations' goals.
Setting goals company wide can often be difficult. By integrating a goals and objectives management system – performance management system, it becomes possible to set and assign goals quickly and efficiently.
Employees need to know how they are performing and if they are meeting expectations and so clear feedback is essential. So is keeping an ongoing record of employee performance. The old days of managers evaluating employees from memory are, thankfully, gone. With Performance Management Application it is possible to provide ongoing evaluation that is both accurate and fair to the employee. In addition, the best goals and objectives management systems provide goal setting tools that increase communication and make the review process more accurate.
Automated goals and objectives management systems allows information regarding employee performance to be stored in an easily retrievable fashion online. His makes vital data available across the company and allows managers to make the best possible decisions. They can track the over all performance of the company. They can identify weak points as well as strengths while keeping an eye on the trends in employee performance. Automated goals and objectives management enables managers to assess employee competence and performance at every level.
David Pylyp, a real estate agent in Toronto, Canada, said goal alignment with company objectives is crucial for business success.
"You can easily lose focus, and then you're spinning your wheels," he said. "You're diverted by the biggest task at hand. The biggest fire gets the biggest priority."
Pylyp said he balances his time between working on listings for clients, getting information to buyers, and preparing for or tending to an appointment with new and prospective clients. He is able to meet his productivity goals because they are clearly aligned with his company's.
However, Pylyp is a team of one. In order for small and medium businesses to achieve this, employees must be able to see themselves in the "big picture" of the company. Communication of and alignment with company objectives is also vital when there has been changes within the company, or a new course of action.
Pylyp also makes time for marketing and social media outreach, including YouTube videos that serve to inform clients and prospective clients on a variety of topics. His videos have more than 100,000 views, which Pylyp said took time to build, but are worth it in the value they add.
"Old school is sometimes the best," he said, speaking of face-to-face contacts with clients. "But you do have to add in the flavor of new technology."
Using a performance management app such as Objectiveli not only allows employees to set and track goals, they can see each of their smaller objectives and how it lines up to the company's objective. They are able to see this in a dashboard, showing them a snapshot of their progress and focusing them on tasks that are most important.
Objectiveli is a web application that manages all your goals and objectives in Real-Time. Objectiveli gives you a single place to view and track the progress of your or assigned objectives, eliminating the need for email, spreadsheets and post-it notes. Objectiveli drives Outcomes that matter, fulfilling your Goals and Objectives, instead of losing focus; managing day-to-day emergencies and "things to do".
Objectiveli was founded in 2012 by Ritu Raj. Raj is also the founder of OrchestratorMail, an email-based platform for coordination, Avasta, a cloud computing company, and Wag Hotels, the largest chain of dog hotels. Additional information can be found on Objectiveli's website: http://www.objectiveli.com.