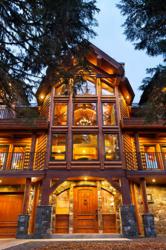 ...these award recipients have preserved and created nationally recognized projects that are sure to stand out to consumers.
Meridian, ID (PRWEB) October 12, 2012
PrecisionCraft Log and Timber Homes has been honored once again for their dedication to distinctive mountain style design. For the sixth year in a row, multiple awards were bestowed on them at the 2013 Jerry Rouleau Awards for Excellence in Marketing and Home Design by the Building Systems Councils (BSC) of the National Association of Home Builders (NAHB)—a trade association that represents the concrete, log, modular, and panelized building system industries.
"Despite going through tough economic times over the past several years, these award recipients have preserved and created nationally recognized projects that are sure to stand out to consumers," said 2012 BSC chairman, Dwight Hikel, owner of Shelter Systems, Ltd. In Westminster, MD.
The first of two home awards presented to PrecisionCraft was for design excellence in a log home built between 2,001 and 3,000 sq. ft. This milled log home is located in Cleveland, Texas and was custom designed to fit on the client's narrow peninsula lot. The second design award went to a 3,600 sq. ft. milled log home in Government Camp, Oregon for Excellence in Green Home Design. This home was also granted LEED Platinum certification—further proof that log home construction can be a green building technique.
The annual Jerry Rouleau Awards for Excellence are judged by a panel of industry experts who are looking for leaders in a range of categories such as engaging websites and floor plan designs that are categorized by systems-built type.
Award winners were announced and honored on Oct. 2, 2012, at the BSC's "Showcase24" conference. Winners received plaques to commemorate their achievements and will be featured in editions of NAHB's e-newsletters throughout 2013, as well as other NAHB and independent publications.
PrecisionCraft is a designer and producer of custom mountain style homes which contain some combination of logs and timbers. The majority of PrecisionCraft's log homes and timber frame homes showcase large diameter logs and heavy timbers and range in size from about 1,500 to over 10,000 sq.ft.
ABOUT THE BSC: The Building Systems Councils of the National Association of Home Builders is made up of manufacturer, builder, and associate members who advocate building with concrete, log, modular, or panelized systems. Systems-built homes are constructed to the same code standards and reflect the same, and often enhanced, quality levels as any site-built construction. The advantage of systems-building is it's done in a fraction of the time, with a fraction of the waste, which can significantly reduce costs. Many systems-built homes also are inherently environmentally friendly adding a "green" label to the finished home.
ABOUT NAHB: The National Association of Home Builders is a Washington, DC-based trade association representing more than 140,000 members involved in home building, remodeling, multifamily construction, property management, subcontracting, design, housing finance, building product manufacturing and other aspects of residential and light commercial construction. NAHB is affiliated with 800 state and local home builders associations around the country, as well as internationally. NAHB's builder members will construct about 80 percent of the new housing units projected for 2012.