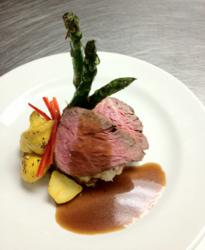 Rodney Kaufman and his team have always
exceeded our expectations and have always been most accommodating and reassuring in making every event enjoyable and outstanding.
Toronto Ontario (PRWEB) October 16, 2012
Prestigious, organized, timely and impressive. These are the virtues of hiring a corporate catering service in Toronto that specializes in serving businesses with impeccable taste, ultimately making you look good. But remember, the holiday season is fast approaching and limited dates are available!
Whether in the boardroom or off-site, Impeccable Taste's team of industry experts – with a combined 80 years of experience in catering – is equipped to facilitate breakfast, lunch and dinner meeting spreads under the most intense time constraints. Through its convenient drop-off corporate catering service, Impeccable Taste can deliver excellence anywhere in the Toronto area.
But the catering services don't just stop there: The company will supply a selection of deliciously inventive entrees, appetizers, deserts, all accessories, flowers, décor, experienced servers and bartending staff. From convenient disposable trays for internal affairs to full china and glass service for those special occasions, Impeccable Taste integrates seamlessly into its clients' corporate culture—whatever it may be.
"Once we've provided a 24-hour quote, clients can simply show up and enjoy," says Rodney Kaufman, President and Executive Chef at Impeccable Taste Catering. "Our company concentrates exclusively on corporate events. We take our clients' time and reputation seriously and agonize over every last detail to execute full-spectrum events that focus not only on superior-quality food, but on the optics of your business as well."
Forget run of the mill. Be impeccable. For more information on the possibilities for excellence at your next Toronto catering event, call our office at 416 792-2595 or visit our website at itcatering.ca.
Impeccable Taste Catering consistently delivers quality food that looks as good as it tastes. As far as catering services in Toronto, service, quality and presentation, like the name suggests, is impeccable, and each event is custom-tailored to suit the unique needs of each customer. Impeccable Taste Catering works with private individuals, companies and corporations in Toronto and the wider Greater Toronto Area markets. Services include expert event planning and catering for casual lunches, seminars, conferences, product launches, release parties, corporate affairs and weddings, among other social events. Born out of the philosophy that exceptional food must not only be meticulously prepared, but also artfully presented, our service offerings include colourful, eclectic and progressive menu options. Visit itcatering.ca for more details.