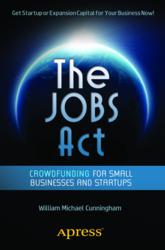 New York, NY (PRWEB) October 11, 2012
One of the key issues being discussed in this year's election, will be the Jumpstart Our Business Startups (JOBS) Act passed by Obama and Congress in April 2012. The act represents an incredible statement of the President's support and willingness to empower small business owners and entrepreneurs as the world economy moves and continues to recover. Ultimately, this act allows businesses to raise capital from individual investors – otherwise known as Crowdfunding.
The JOBS Act: Crowdfunding for Small Businesses by William Michael Cunningham shows budding entrepreneurs and small businesses how to raise up to $1 million in equity (or debt) funding online Crowd funding platforms― online communities and websites. So how does one get in on the new funding opportunities?
Investment expert William Michael Cunningham shows how the new law will enable you to use the internet to raise significant amounts of capital funding for your startup. After discussing briefly the development and implementation of the law, what it means, and how it will impact the business startup marketplace, he delivers the nuts and bolts of how to take advantage of the JOBS Act to access new sources of capital for your small business or startup.
The act presents a major tool in empowering entrepreneurs to raise capital from individuals to help them launch their products and pursue building a business that beforehand seemed out of their reach. This book is about the development and implementation of the law, what it means, and how and why it will impact the business startup marketplace. It describes significant transformational opportunities, and risks, for those seeking to understand the economic implications of the new law. This opportunity is something that all entrepreneurs should understand and weigh when starting up.
The JOBS Act: Crowdfunding for Small Businesses and Startups also helps readers understand

How businesses owned by women and minorities can raise new capital, as well as those now shut out of the capital markets (restaurants, day-care centers and others ignored by finicky venture capitalists and skittish bankers)
How investors can identify opportunities, avoid fraud, perform due diligence, and then make an intelligent investment.
About the Author
William Michael Cunningham is an economist, investment advisor, researcher, and social investing policy analyst. Cunningham researches, evaluates, develops, and creates specific socially responsible investments. On February 6, 2006, he warned the SEC that statistical models he created using his Fully Adjusted Return Methodology signaled the possibility of system-wide economic and market failure. A former securities broker and institutional salesman, he works with pension fund trustees, investment managers, community activists, government agencies, and financial industry organizations to create and implement social and community investing initiatives. In an October 1998 petition to the United States Court of Appeals, he opposed the elimination of the Glass–Steagall Act, citing evidence that growing financial market malfeasance greatly reduced the safety and integrity of large financial institutions. Cunningham has been involved in the provision of online resources to small businesses for over fifteen years, posting his first website in 1995. Cunningham holds an MA in economics from the University of Chicago, as well as an MBA in finance from the university's Booth School of Business.
ISBN: ISBN13: 978-1-4302-4755-5
*150 Pages
*Publishing September 26, 2012
*Available eBook Formats: EPUB, MOBI, PDF

Print Book Price : $19.99
eBook Price: $13.99
About Apress Media
With more than 1,000 books in print and e-formats, Apress is the authoritative source for IT professionals, software developers, and business leaders all over the world. Apress provides high-quality, no-fluff content that helps serious technology professionals build a comprehensive pathway to career success. Since 2007, Apress has been part of Springer Science+Business Media, one of the world's leading scientific, technical, and medical publishing houses, enabling global distribution of Apress publications. For more information, please visit http://www.apress.com.