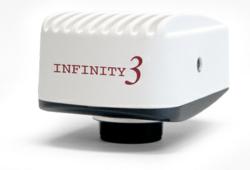 We continue to extend the limits of offering the best price-to-performance ratios in the market.
Neuroscience 2012, New Orleans, LA (PRWEB) October 11, 2012
Lumenera Corporation, http://www.lumenera.com, a leading developer and manufacturer of high performance digital cameras and custom imaging solutions for scientific, industrial and security applications, introduces the newly redesigned INFINITY3-1UR USB 2.0 microscopy camera now offering exceptional dynamic range, as well as reduced read noise and dark current noise.
The reengineered, uncooled INFINITY3-1UR camera provides researchers with a cost-effective solution for moderate fluorescence applications, a field that has historically been dominated by much more expensive cooled cameras. Lumenera has developed a unique noise reduction technology that includes high grade components, low noise electronics and improved thermal management techniques. The combination of these efforts has resulted in the INFINITY3-1UR, the second research-grade camera unveiled by Lumenera with core technologies that are shared across the product line.
This product raises the bar for performance in an uncooled Sony ICX28 CCD sensor-based camera. The extremely high dynamic range and large 6.45 μm square pixels easily manage difficult samples without increasing exposure levels that can reduce the quality of previewed and captured images. The excellent color reproduction of the INFINITY3-1UR ensures simple, high quality image capture. Live video of up to 30 frames per second (fps) at full 1392 x 1040 resolution is captured, with optional binning and ROI producing speeds as high as 54 fps. This camera is ideal for challenging lighting conditions found in life science, clinical and industrial applications.
Although the improved technology has been incorporated into this product, price remains unchanged from its predecessor (INFINITY3-1U), resulting in tremendous value with a great price-to-performance ratio.
"Lumenera has listened to the needs of its valued customers and partners, once again increasing performance without increasing price." said Shari Anne Bordeleau, Director of Channel Sales at Lumenera Corporation. "We continue to extend the limits of offering the best price-to-performance ratios in the market. With both the INFINITY2-1R and now the INFINITY3-1UR, we've found a way to offer more value while maintaining world-class quality and support."
INFINITY CAPTURE, an intuitive image capture program, and INFINITY ANALYZE, a full image analysis package offering: camera control; measurement; annotation; tiling and post capture enhancement, are both included. Sharing and installation of one or more cameras on a single computer is quick and simple through a high-speed USB 2.0 interface. INFINITY cameras are integrated into a variety of third-party software packages through direct drivers or with TWAIN/DirectX support. A Mac camera driver and ImageJ plug-in are available for the INFINITY3-1UR. Camera and software combine to create a complete microscopy imaging solution.
The INFINITY3-1UR will be available in both color and monochrome in Q4/2012, and will be on display at Neuroscience 2012 in New Orleans, Louisiana from October 13 to 17, 2012. For a hands-on demonstration visit Lumenera at booth #2220, or visit our website at http://www.lumenera.com for additional information.
About Lumenera
Lumenera Corporation, a division of Roper Industries, and headquartered in Ottawa, Canada, is a leading developer and manufacturer of high performance digital cameras and custom imaging solutions. Lumenera cameras are used worldwide in a diverse range of industrial, scientific and security applications.
Lumenera solutions provide unique combinations of speed, resolution and sensitivity in order to satisfy the most demanding digital imaging requirements. Lumenera customers achieve the benefit of superior price to performance ratios and faster time to market with the company's commitment to high quality, cost effective product solutions. For further information about Lumenera, please visit http://www.lumenera.com or call 613-736-4077. To receive Lumenera press releases as they are issued, contact us at marketing(at)lumenera(dot)com.