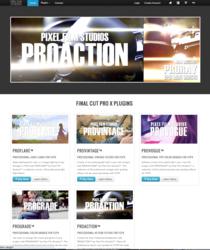 Aliso Viejo, California (PRWEB) October 11, 2012
Final Cut Pro X Plugins from Pixel Film Studios are now available for download at the FCPX Plugin Store.
Pixel Film Studios, developer of visual effects tools for the post-production and broadcast markets, announced the availability of ProGrade, ProEdge, ProRay and ProAction plug-ins for Apple Final Cut Pro X.
Use color to change the mood and genre of a project with PROGRADE™ by Pixel Film Studios™. This collection of 30 professional color grades can be used in FCPX to create subtle yet powerful color changes. With PROGRADE's™ easy-to-use controls, quickly adjust the intensity of the effect to achieve the perfect color grade for your scene.
Create the look of your film through color. With the click of a button, change your FCPX project from a romantic red setting to an action-thriller blue. PROGRADE™ makes changing the mood, temperature, and genre of any footage easy through subtle yet powerful color grades.
Achieve that high dynamic look with PROEDGE™, which is now included with a purchase of PROGRADE™. Use PROEDGE™ to recover details and make shadows more defined, giving your footage a dramatic, almost hyper-real look.
Create the next Hollywood blockbuster with PROACTION™ by Pixel Film Studios™. These 30 professional action color grades for FCPX will make a film project look like its ready for the big screen. Simply drop one of PROACTIONS's™ effects on to your clip and adjust the user friendly controls to change the intensity and shadow. Headshot!
With 30 epic action grades to choose from, PROACTION™ can turn footage into a futuristic sci-fi thriller or post-apocalyptic desert war in the click of a button. PROACTION™ was created by film professionals to recreate the color grades used in Hollywood's biggest blockbusters.
PROACTION™ now comes locked 'N loaded with PRORAY™, a collection of epic light bursts.Use PRORAY™ to give your project the same lighting effect as many of your favorite contemporary action films.
Pricing and Availability:
The Pixel Film Studios Plug-ins are available today through the Pixel Film Studios website starting at $19.95 USD. For more information, please visit the Pixel Film Studios website.
Established in 2006, Aliso Viejo, California-based Pixel Film Studios is an innovative developer of visual effects tools for the post-production and broadcast community. Their products are integrated with popular non-linear editing and compositing products from Apple FCPX. All Apple, the Apple logo, Mac OS X, and Macintosh are registered trademarks of Apple Inc. in the U.S. and/or other countries. All other trademarks and trade names are the property of their respective owners.