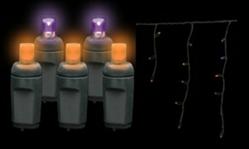 Chicago, IL (PRWEB) October 11, 2012
Go Green LED Bulbs has recently added LED Halloween Lights to their product line. With that, they are providing a list of ways to use them as creative Halloween decorations. The decorations come in a variation of spooky, cute and elegant.

Simply wrap light strands around trees, similar to the Christmas season, using LED Halloween lights in purple, orange and lime green, will make for an easy Halloween decoration.
"Trees" can be made from collecting fallen branches and twigs, and adorned with LED Halloween lights to create a fall or Halloween decoration. The branches and twigs can be tied with ribbon or string to hold them together, and then placed into a planter or other pot. Orange LED lights can be wrapped around the branches to add a pop of fall color. Pumpkins, gourds, and other fall plants can be placed around the pot for more decoration.
Carving pumpkins is a classic fall tradition. Instead of using candles or battery operated lights, a strand of white, yellow or orange LED lights can be wrapped around a small jar and placed inside of the pumpkin. This reduces risks of fires and burnt out bulbs, and allows the pumpkin to be lit when necessary.
Carving pumpkins can be time consuming and oftentimes creates a huge mess. Instead of using pumpkins as decorations, the same feel can be achieved using mason jars. The mason jars, of any size, should be painted with one layer of orange paint. Then, using a permanent marker or black paint, a jack-o-lantern face can be made on the jar. Then a strand of LED lights can be placed inside the jar and lit to create a glass version of a jack-o-lantern.
Rather than placing candles along a sidewalk or walkway to a home, "witches" brooms can lead the way. Various Halloween colored LED lights, such as purple, lime green and orange, should be wrapped around the handles of the broom to create a fun and unique Halloween decoration.
A spooky decoration that is likely to frighten young trick-or-treaters is lit up eyes popping out from bushes. Toilet paper rolls are used in this project. The eyes are carved from the cardboard. Different shapes and sizes of eyes should be used to create a scarier effect. The exteriors of the cardboard tubes can be painted to better blend in with the bushes. A strand of Halloween LED Lights should be placed inside each tube to make the "eyes" glow.
Another scary decoration is a display of burning coals with a skeleton, or other creature, attached to a stake above it. To create this, a foam or cardboard plank is needed. A strand of orange LED Halloween lights should be placed on top of the plank in an unorganized manner. Next, plastic bottle tops and bottoms are placed on top of the lights. Spray foam is then sprayed over the bottles and the lights. Black spray paint is then sprayed on top of the foam to create a charcoal look. Once the lights are plugged in, the display will look like burning embers or coals.
An elegant fall decoration that can be displayed all season long uses plant hangers but has pumpkins hanging on them instead of plants. Hanging LED Lights in Halloween colors, or just orange and white, adds a graceful touch to the decoration. Fake or real leaves can also be attached to the strands of lights to add more color.
For a cute Halloween decoration, collect empty milk cartons and draw various ghost faces on them with black permanent marker. Next, strands of white LED lights should be placed inside them. They can be placed along a walkway or up the steps of a stairway.
ABOUT GO GREEN LED BULBS
Go Green LED Bulbs is a leading distributor of energy efficient products including LED Christmas lights, exit signs, flashlights, and more. Located in Round Lake Beach, IL, Go Green LED Bulbs works hard to inform the consumer so they can make the best decision on what LED lighting products are right for their residential or commercial space.