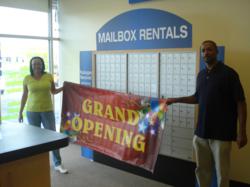 Streetsboro, OH (PRWEB) October 14, 2012
Cargo Mail & More is a new full-service mailbox store recently opened by local entrepreneur, Jackie Collins, and located at 9765 SR 14 Ste 301, Streetsboro, OH 44241. The location offers residence a convenient place for all of their essential shipping and mailbox needs as well as office, packaging, and packing supplies, saving them a lot of time and money according to store owner Jackie Collins.
Cargo Mail & More offers national and international shipping of items of any size for a good price, plus packaging and packaging materials, key cutting, color copy services, passports and ID photos, letterheads, business cards, mailbox rentals, a range of office supplies, and shipping supplies like loose fill, tape, cushioned mailers, shipping labels, decorated boxes, corrugated boxes, bubble wrap and more.
The Mail Box Stores assisted Jackie Collins in securing financing, site location, lease negotiation, business training, store build-out, securing a network of wholesale suppliers, and they are committed to providing ongoing business and marketing support. These services were available for a one-time cost and there are no franchise fees because Cargo Mail & More is independently owned by Jackie Collins.
Discount Retail Store Services is a business development company helping entrepreneurs start a business by covering all of the core tasks essential for success. Opening nearly 3,000 independently owned stores to-date, they specialize in six business models including dollar stores, clothing stores, teen stores, party stores, mail box stores, and fitness centers. Find out about upcoming news on Facebook.