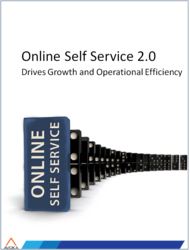 The explosive growth in smart phones, tablets, mobile applications, and social media, demands that you rethink your online self-service strategy.
Sydney, Australia and Denver, CO (PRWEB) October 12, 2012
Avoka Technologies, a leader in transforming call-center interactions, branch office visits, and paper or electronic forms into effective online customer experiences, is delivering its first Online Self-Service 2.0 webinar Oct. 18, 2012.
The traditional view of customer self-service is ensuring that it's easy for your customers to engage with the organization during the marketing activities before the sale and the support activities after the sale. This view ignores the customer experience during actual transaction itself.
The fact is only the retail industry delivers a seamless, online customer experience that spans marketing, sales, and support. They can do this because retail sales transactions are short and simple; they are easily automated by eCommerce systems.
Insurance, banking, government, life sciences, higher education and many other industries conduct business through long and complex transactions. As a result, whenever the customer wants to apply, order, register, submit or transact in any way, they are directed to your Call Center, your Branch Office or your PDF form.
This is no longer acceptable. The explosive growth in smart phones, tablets, mobile applications, mobile forms, and social media are rapidly redefining customer expectations for online self-service that allows them to not just find information, but to get things done.
Here's the bottom line - customers increasingly want to use the most cost effective and convenient channel you can offer.
Join this webinar to learn how to quickly:

Turn call-center interactions, office visits and paper forms into effective online experiences
Provide self-service that allows customers to do everything online - and from any device
Deliver an optimized online experience for every device from a single design
Reduce transaction cycle times and feed your systems higher quality customer information
Allow business analysts to create and deploy powerful data collection applications
Give IT the management and control they need.
About Avoka
Avoka Technologies is a leading provider of solutions that enable organizations to successfully transform call-center interactions, branch office visits, and paper forms into powerful online user experiences. Our award-winning solutions let organizations quickly create and deliver the cross-device, intelligent, and interactive online experiences that their users want and expect while also providing the scalability, security and controls that their IT departments need. Founded in 2002, Avoka is headquartered in Sydney and maintains offices throughout Australia and North America, and in Europe.