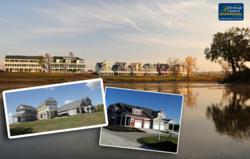 Our partnership with HomeWay Homes works well since our resort is designed for a lifetime of low maintenance ease so that our residents can spend their time doing what they love to do on and off the water.
Ottawa, IL (PRWEB) October 11, 2012
The traditional idea of prefabricated homes in the modern world still comes with a certain level of stigma, but that stigma is wavering as prefab is gaining ground in popularity. Improvements to prefab developments are leading to a welcome shift in attitude.
While many new homes are still built on-site, Sheri Koones, author of four books on prefab housing — including the new "Prefabulous and Almost Off the Grid: Your Path to Building an Energy-Efficient Home" — tells the Associated Press that simply doesn't make sense.
"Would you want your car to be built in your driveway?" Koones says. "Of course you wouldn't. You want your car made in a climate-controlled factory by skilled professionals on an assembly line. Wouldn't you want the same thing for your home?"
In a general sense, prefab housing refers to factory-built modular housing. They are built to the same code as traditionally built homes, but with additional structural requirements to make sure they will withstand being transported. Depending on the home's size, multiple pieces (or modules) are delivered to a site and secured together onto the foundation in a matter of hours.
Though a lot of prefab architecture started in the Bay Area, the innovation isn't limited to the West Coast. In the Midwest, premiere resort and marina community Heritage Harbor Ottawa is taking the architectural trend to new heights. Heritage Harbor has homes for every lifestyle and budget with Starved Rock Country and the Illinois River resting in the background. The resort, which was voted Best Illinois Resort Community 2011, has partnered with HomeWay Homes to introduce modular homes to their portfolio of single-family cottages, row homes and waterfront condominiums.
HomeWay Homes, based out of Goodfield, Ill., uses state-of-art modular construction technology. From roofing shingles to the sub-floor, the building products used in a Homeway Home are carefully selected to work better, last longer and provide the highest level of energy efficiency without compromising functional design or visual aesthetics
"Our partnership with HomeWay Homes works well since our resort is designed for a lifetime of low maintenance ease so that our residents can spend their time doing what they love to do on and off the water," said Tom Heimsoth, president of Heritage Harbor Ottawa.
One of the reasons modular prefab homes are indistinguishable from site-built homes and are growing in popularity is due to their efficiency and cost. Additionally, since the homes are pre-designed, there are no architect fees, time delays or cost overruns. Not to mention, visitors and homeowners to Heritage Harbor love and comment on the visual architecture of the homes, which are reminiscent to East Coast seaside homes.
"If houses aren't attractive, no one is going to want to build an efficient house," Koones continued to tell the Associated Press. "One of the misconceptions about prefab is that they're all modern, and not everyone likes modern. The truth is, most of the prefab being built in this country is actually traditional."
Heritage Harbor Ottawa has also partnered with Homeway Homes to create the unique Cottages at Heron's Landing. The Cottages at Heron's Landing project is developed on prime Illinois River waterfront property as energy efficient, seaside-reminiscent, vacation cottages that are available for sale and for short vacation rentals.
The Cottages are placed in a small cluster and walkable community with front porches and public gathering spaces of the river's edge and fire pit. Through the partnership, the Cottages have been introduced at an entry price point in the mid 100s. The Cottages are ideal for those looking for a second home, part-time or for those looking for full-time homes there are other great neighborhoods. The resort also offers amenities such as a full-service marina with more than 450 boat slips, restaurant on-site, in-ground pool, walking path and year-round activities.
For more information, to schedule a tour of a Heritage Harbor waterfront home or for directions to the resort community, contact Tammy Barry at 815-433-5000.