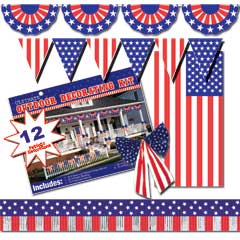 Chicago, IL (PRWEB) October 17, 2012
Tuesday, November 6th marks the 2012 Election, when the President of the United States will officially be determined for the next four years. Party supply company, Windy City Novelties, provides an assortment of Election Day party supplies and decorations along with party ideas to be used on this very important and historical day.
Windy City Novelties provides small products that can be used to give out to promote presidential campaigns, such as key chains with the symbol of the different political parties on them. Patriotic pens can be made with custom messages to help support the presidential candidates and to get people interested and excited about the upcoming election.
Republicans can round up their fellow Republican friends to support the party's candidate with decorations and paper goods containing the Republican Party symbol: the elephant. Republican Party decorations include light up balloons, necklaces, glow sticks, invitations and more. Windy City Novelties also provides a six foot, five inch, life-size Mitt Romney stand up to show support for the candidate.
Democratic Party supplies are also offered, including a six foot, life-size stand up of Obama giving a speech at a podium. Democratic Party or Obama invitations are available to be sent out to guests to invite them to a rally or get-together. Let guests know where the party is and show support for the Democratic candidate with Obama banners and a custom message. Instead of throwing parties to show support for a candidate, individuals can place Democratic or Republican Peel and Place Decals on their windows and car exteriors to let others know who they are voting for.
For those that just want to support the election in general, Windy City Novelties provides red, white and blue paper goods, as well as other patriotic decorations, to show American pride. Planning a party can be time consuming and stressful. Because of this, Windy City Novelties provides party kits to make for fun and easy decorating. The Spirit of America Party Kit is one of the many patriotic party kits and contains patriotic top hats, red, white and blue glitter tiaras and soft-twist poly leis to make for fun party gifts and costumes. Patriotic noisemakers are also included in the kit, along with decorations to hang from the ceiling for festive decorating. One can also decorate the interior or exterior of their home with the Patriotic Ultimate Decorating Kit. This kit includes an American Flag themed 15 foot banner, bows, plastic bunting, and garland. Additionally, red, white and blue bunting or pennant banners can hang off rooftops or porch railings and staircases. Customers can always keep it simple by hanging up one of Windy City Novelties' American Flags.
ABOUT WINDY CITY NOVELTIES
Windy City Novelties, a party supply company founded in 1983, is known for their great selection and competitively priced items. They have an A+ rating from the Better Business Bureau and are also a NexTag 5 star Seller. From their website, windycitynovelties.com, they offer fast and friendly shipping along with great customer service. From glow necklaces in every color of the rainbow, to party decorations in a variety of themes, and even a vast selection of Halloween costumes at the best prices, Windy City Novelties has over 15,000 products and adds more each week.