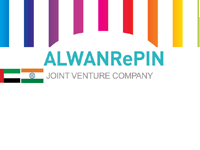 "In the struggle for survival, the fittest win out at the expense of their rivals because they succeed in adapting themselves best to their environment."

- Charles Darwin
Dubai, UAE (PRWEB) October 13, 2012
"Al Ahli Holding Group is always looking at, and open to, innovative ways to expand and diversify the activities and sectors of the corporation. We see ALWANRePIN LLC, our latest Joint Venture, as a way to enter new geographical boundaries identified in the Middle East & African Region. We are seeking new ways of marketing our Flexible Packaging Products and are diversifying our market by addition of Masterbatches now to offer to our existing & new clientele".
ALWANREPIN LLC is a 51:49 JV between Al Ahli Holding Group, UAE & RePIN Masterbatches, India
"Although AAHG is based in the United Arab Emirates with offices in Dubai, Abu Dhabi and Fujairah, Representative Offices are also operating in the USA, Panama, Colombia, Brazil, Africa and Korea which will give us leading hand in promotion of ALWANRePIN LLC Worldwide over the future"
Mr Salem Khammas, Executive Director of the Al Ahli Holding Group is also Director in ALWANREPIN LLC, UAE