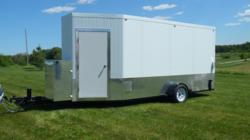 "Best Investment we've ever made!"
Kansas City, MO (PRWEB) October 11, 2012
Pest Control Supplies has recently been named Insect Inferno's sole national distributor. Insect Inferno will be huge addition to Pest Control Supplies' PCS Heat division.
Pest Control Supplies has offered the best and widest range of proactive solutions to the pest management industry since it's founding in 1904. PCS is truly a client driven organization. Companies depend on PCS to supply them with cutting-edge pest management products and tools. The newest tool that PCS Heat is offering to the public is the Insect Inferno.
Insect Inferno is an enclosed mobile heat chamber that is used to kill bed bugs and their eggs in household items. Items such as; couches, mattresses, box springs, pillows, tables, chairs, clothing, and most upholstered furnishings. The Insect Inferno is equipped with an electronic monitoring system so you can see the core temperature of the items being treated and the actual air temperature inside the unit. The Insect Inferno trailer has actuators for lowering the trailer for easy loading and unloading of items. The Insect Inferno is effective, affordable and efficient.
Corey and Sue Westrum, owners/inventors of Insect Inferno are scheduled to appear with Pest Control Supplies/PCS Heat at Pest World in Boston Massachusetts on October 17th-20th. PCS Heat will be bringing their Insect Inferno trailer. The trailer will be at the Pest Control Supplies booth for attendees to see the trailer in action.
Pest World will take place October 17th-20th 2012 at Sheraton Boston Hotel, John B. Hynes Veterans Memorial Convention Center in Boston, Massachusetts.
For more information on PCS Heat and Insect Inferno, please go to: http://www.pcsheat.com or call toll free 800-821-5689