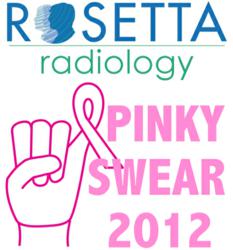 New York, NY (PRWEB) October 11, 2012
Rosetta Radiology is proud to be a part of the American Cancer Society's Annual Making Strides Against Breast Cancer walk. The event will be held on October 21, 2012 in Central Park, Manhattan. With their team name, Rosetta Rads, they are radical in their belief that a cure for Breast Cancer is coming and that early detection equals positive outcomes. This year, the Rosetta Rads are hoping to raise $2500.
Rosetta Radiology has participation from their entire staff and would like to invite you to join their team and donate to this cause. To join or donate on behalf of the Rosetta Rads go onto http://makingstrides.acsevents.org and join a team under the get involved tab. Then search for Rosetta Rads and start making a difference today.
Making Strides Against Breast Cancer is an annual walk that takes place nationwide and helps to educate and inspire communities about breast cancer awareness. Honoring breast cancer survivors, raising awareness about reducing the risk of getting breast cancer, and raising money to help fight the disease with cancer research, information, and access to mammograms for women who need them. The American Cancer Society started Making Strides 20 years ago, and since then breast cancer rates have declined more than 32 percent.
For more information about joining the Rosetta Rads, or making a donation, please contact Deb Bergsohn at Rosetta Radiology.
About Rosetta Radiology
Since its opening in the 1960s, Rosetta Radiology has served Manhattan with the highest quality Radiation Oncology, Diagnostic Radiology and Women's Imaging services. Rosetta was one of the city's first independently owned outpatient facilities and pioneered the definition of excellent patient care, technology and service. Now located at 1421 Third Avenue between 80th and 81st Street, Rosetta is accredited by The American College of Radiology and serves a vast patient population with the highest quality services. Known for their special combination of state-of-the-art technology and unparalleled patient experience, the facility is led by their onsite radiologists and radiation oncologists; Dr. Alfred Rosenbaum, Dr. Stanley Rosenfeld, Dr. Emily Sonnenblick, Dr. Ayala Rosenbaum and Dr. David Sherr.