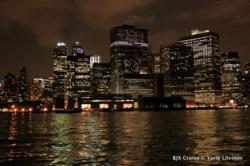 Brooklyn Jewish Xperience connects me with other Jews. They facilitate my exploration of Judaism. I know I can count on BJX to experience the Jewish Holidays and Sabbath.
Brooklyn, NY (PRWEB) October 11, 2012
It's a Wednesday evening, and Jewish guys and girls, ages 20-34, are gathered together having a blast. This may be the best kept secret in Brooklyn. Everyone exudes a great energy and camaraderie. They come from different parts of Brooklyn—Park Slope, DUMBO, Sheepshead Bay, Mill Basin, Flatbush, Bay Ridge, Bensonhurst, Gravesend—some are even from Queens, Staten Island and Long Island. They aren't at a sports arena. Nor are they at a bar or club. Where exactly are they and what has them coming back week after week? They're at Brooklyn Jewish Xperience (BJX), an exciting and innovative program custom made for the Generation Y Jew.
With everyone busy with either work or school what brings these young professionals away from their responsibilities and to what has become the hottest social venue? It's BJX—an educational program that understands the needs and mindset of young and hip Jews. Studies show that most young Jews have little interest in Judaism. The rate of assimilation and Jewish apathy is astounding. Even traditional communities once believe to be immune from "contemporary" problems are suffering from intermarriage and assimilation. BJX is changing these statistics by igniting young Jews' interest in their heritage. Those who attend the various BJX programs are left empowered, inspired and educated.
Some participants come from secular backgrounds with absolutely no Jewish education. Others come from traditional but non-observant backgrounds. Then there are students that come from religious homes but have abandoned their observance.
John hasn't missed a single BJX program since he began attending back in April. After a wonderful Sukkot celebration with a complimentary lavish Holiday dinner, he told Rabbi Fingerer that he is going to continue his Jewish education and is making plans to visit Israel for the first time. This is no small commitment. Jessica, a young professional, told Rabbi Fingerer, "BJX connects me with other Jews. They facilitate my exploration of Judaism. I know I can count on BJX to experience the Jewish Holidays and Sabbath."
Each week young Jewish professionals gather for a sumptuous hot dinner buffet. They socialize, mingle and have the opportunity for professional networking. The highlight of the evening is a lecture by a most dedicated, brilliant, caring and dynamic educator, Rabbi Yitzchak Fingerer.
Rabbi Fingerer authored a popular book on Jewish philosophy, Search Judaism and maintains a weekly morning radio program on Radio Hidabroot, 97.5FM. Fans enjoy his unique upbeat style and erudite presentations.
Brooklyn Jewish Xperience students know their Rabbi as someone who is eminently personable. Many BJX students never had exposure to a Rabbi. Their perception of a Rabbi was some intimidating with a long beard; someone out of touch with reality. Rabbi Fingerer breaks all these stereotypes. He is a Generation Y Rabbi—ever contemporary, tolerant, accepting, and warm.
BJX has also been privileged to be addressed and inspired by world-famous educators such as Rebbetzin Esther Jungreis, Mr. Malcolm Hoenlein, Rabbi Zecharia Wallerstein, Rabbi Lazer Brody, Charlie Harary and other renowned speakers.
This mega evening is free if you register before October 15. Don't miss what promises to be a spectacular evening. Young Jewish professionals who want to attend this special evening should register ASAP here: http://www.BrooklynJewishevents.com.
About Brooklyn Jewish Xperience
Brooklyn Jewish Xperience educates, empowers, and inspires college students and young Jewish professionals throughout Brooklyn to be the leaders of tomorrow. BJX's innovative and exciting programs help students explore a rich and meaningful Judaism. To enable BJX to continue its vital work, adopt a community, or sponsor an event call 646-397-1544. A secure online donation can also be made online here: http://fundly.com/brooklynjewishxperience
###