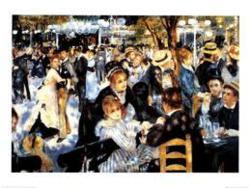 You should see the masterpieces of the gallery lit by Solux lights! The Moulin de la Galette, by Renoir and our five Cathedrals by Monet have never looked so fantastic
Rochester, NY (PRWEB) October 24, 2012
After nearly a three year effort, the Museée d'Orsay which houses the world's largest collection of French Impression paintings, has completed its relighting effort choosing SoLux to illuminate its entire collection from well known artists such as: Courbet, Millet, Moreau, Pissarro, Manet, Degas, Cézanne, Monet, Cassatt, Renoir, van Gogh, and Gauguin.
SoLux light sources are widely regarded as the gold standard for critical color applications. SoLux's ability to replicate the visible daylight spectrum is what separates it from all other light sources. With SoLux, the colors in a painting are displayed as they were intended by the artist providing an image that may not have been seen for centuries.
SoLux also provides superior protection for paintings. The ultraviolet (UV) light emitted by SoLux is only a fraction of the UV emitted by other light sources including incandescent and fluorescent. Additionally, the fidelity of SoLux is so superior that museums report requiring less light on their paintings to produce desired contrast and brightness.
SoLux lights have been praised by museum directors, curators and art critics, "the paint still looks wet; one waits instinctively for a waft of linseed.. the paintings seem naked, new, and endless... the patterning of brush strokes, even the micro-thin shadow lines – are all evenhandedly revealed… all seems forever young"