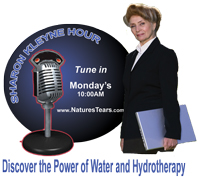 Grants Pass, OR (PRWEB) October 11, 2012
With good personal habits, including eating habits, author and nutritionist Sam Rose recently announced, people should live to be 100 or even 120. If an individual doesn't live that long, says Rose, it can ultimately be traced to poor self-maintenance."
Rose, author of The Way Back (Lime Grove Press, 2011), made the announcement to host Sharon Kleyne, during an interview on the Sharon Kleyne Hour Power of Water radio show. Podcasts of the interview may be heard on WorldTalkRadio.com, Apple iTunes Radio and Sharon Kleyne Hour.com.
Rose began his adult career in the music business leading what he describes as, "an unhealthy lifestyle" of fast foods, little sleep, high stress and too little pure water. He was eventually involved in a serious automobile accident after which struggled to regain his health.
In a "moment of clarity," it occurred to Rose that to be healthy, he must take his cues from nature and live with the rhythms of the Earth. Within a few weeks, he began noticing improvement. He ultimately founded a nutrition center and has devoted his life to studying natural nutrition and diet.
"Diet is not just eating, it is a way of life," says Rose. "Who you are is what you eat and this includes health-causing behaviors such as drinking enough water, sleep, activity level, stress reduction and avoidance of toxicity."
Sam Rose is especially interested in the diet and personal habits of people who live the longest. He has observed that most of them eat simply, avoid heavily processed foods and live "close to nature."
In an exclusive report to the Sharon Kleyne Hour Power of Water, Rose identified the following seven habits of the world's longest living people:
1. They eat whole, not adulterated or highly processed foods.
2. Their eating habits include chewing thoroughly (inadequately chewed food is not digested as thoroughly) and relaxing after meals.
3. They get 8 to 10 hours of uninterrupted a night (most people get six or seven). Should a sleep problem arise, they figure out what is wrong and fix it.
4. They are aware of toxicity in the environment and the natural cycles of abundance and scarcity. The body undergoes natural cleansing of toxins during times of scarcity and lack of cleansing can lead to obesity and toxin buildup.
With respect to toxicity, Sam Rose and Sharon Kleyne discussed the importance of drinking eight to ten glasses of pure water a day, and "trigger foods" such as salt, sugar and grease, which promote addiction, overeating and poor diet. They also talked about the importance of locally grown, in-season foods.
5. They are aware of and able to manage stress. Regular meditation is an excellent stress management technique. If stress is unavoidable, you must learn to manage and cope so that the stress does not destroy your health.
6. They keep physically active. Most people sit for ten hours a day.
7. They stay engaged with life, which means they also keep mentally active.
If you are experiencing a symptom, says Rose, it means you are doing something wrong that needs correcting. A symptom is a message, not a nuisance. Medication, according to Rose, should only be a last resort and dietary supplements should not be used in lieu of a healthy diet.
Sharon Kleyne and Sam Rose also discussed meditation. They discussed breathing deeply and standing up to increase oxygen intake. Kleyne suggests breathing through in the mouth and out through the nose while Rose talked about controlled breathing and quietude for relaxation and better sleep.
The Sharon Kleyne Hour Power of Water is broadcast live on Mondays, 10 a.m., PST/PDT. The syndicated talk show is heard on Voice America/World Talk Radio, Green Talk Network and Apple iTunes. Go to http://www.SharonKleyneHour.com for written summaries and on-demand podcast replays of the July 2, 2012 interview with Sam rose.
Website: http://www.rosenutrition.com
© 2012 Bio-Logic Aqua Research