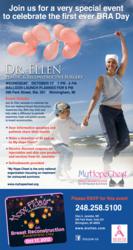 Each year, nearly 150,000 women learn they will undergo a mastectomy due to breast cancer, but 7 out of 10 women are never told about their breast reconstruction options, and the numbers are even worse for minorities. That needs to change.
Birmingham, MI (PRWEB) October 15, 2012
Attendees will share stories about breast reconstruction and enter raffles for jewelry, skin care products and cosmetic treatments.
On Wednesday October 17th, Birmingham Plastic Surgeon Ellen Janetzke MD will host a very special BRA Day event at her Park St. office. The event takes place 1-8 PM. At 6 PM, attendees will "lift their hope to the sky" during a celebratory balloon launch.
In support of breast cancer awareness, Dr. Ellen will be sharing breast reconstruction success stories and accepting modest donations for My Hope Chest – the only national organization focused on treatment for uninsured breast cancer survivors.
Attendees will receive discounts on cosmetic treatments, may enter raffles for fantastic prizes, and may donate to receive a commemorative shirt, necklace or ribbon. Dr. Ellen, along with UnaSource Surgery Center, is also hosting a bra decorating contest. Come vote for your favorite! If you're a breast reconstruction patient, you can enter our contest to be a model for an upcoming Karlee Smith Limited catalog. (They specialize in postsurgical garments.)
RSVP today by calling Dr. Ellen's plastic surgery office in Birmingham at 248-258-5100. You can also RSVP by email through our website. http://drellen.com/contact.html
Prizes and advertising has been provided by our sponsors: Metals in Time Jewelers, Sciton®, Mentor®, Neocutis, Allergan®, Radiesse®, Karlee Smith LTD, Hour Magazine, Birmingham Now and Bloomfield Hills Living.
About BRA Day
Breast Reconstruction Awareness Day is an initiative that promotes education, awareness and access for women who may wish to consider breast reconstruction after mastectomy.
The collaborative effort involves plastic surgeons specializing in breast surgery who are members of the American Society of Plastic Surgeons®, The Plastic Surgery Foundation™, plastic surgery nurse specialists, the Canadian Breast Cancer Foundation™, Canadian Society of Plastic Surgeons, medical device industry representatives and breast cancer support groups. The United States and 20 other countries will join this year's international effort to increase awareness for breast reconstruction options after mastectomy.
Singer and songwriter Jewel has become the spokesperson for BRA Day, and wrote a special song called "Flower" to promote the cause. "Each year, nearly 150,000 women learn they will undergo a mastectomy due to breast cancer," she said during a recent public service announcement, "but 7 out of 10 women are never told about their breast reconstruction options and the numbers are even worse for minorities. That needs to change."