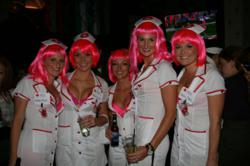 Annapolis, MD (PRWEB) October 12, 2012
For the fourth year in a row, Fado Irish Pub and Restaurant is throwing the annual WRNR Halloween Bash on Saturday, October 27. Guests are encouraged to wear their scariest, sexiest, funniest or just plain tasteless costumes because at 10pm there is a huge costume contest.
With the chance to win a trip for 2 to Mexico, a trip to Philadelphia and $100 and $75 in Fado bucks, over-the-top costumes are encouraged. The fully decorated bar, delicious draft beers, and DJ Ray spinning the spookiest hits all night will make this the best Halloween bash in Annapolis. No cover charge!
About Fadó Irish Pub and Restaurant:
Fadó (pronounced fuh-doe) Irish Pub Annapolis is located at One Park Place and is revered for its Irish hospitality and craic (Gaelic for good times). In addition to happy hour the Annapolis bar also offers special events, weekly trivia nights, Annapolis live music and live European sports viewings. For more information about Fado Irish Pub and Restaurant Annapolis, please visit the pub's website.