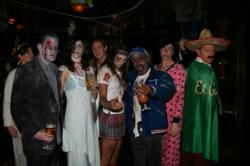 Chicago, IL (PRWEB) October 15, 2012
Fadó Irish Pub in River North is hosting A Reel Scary Halloween on Saturday, October 27 starting at 10pm. The scariest black and white movies will be playing all night plus live music from Selective Recall.
At 10:30 DJ Ram will be spinning the spookiest hits to keep the party going late into the night. There is no cover charge and great drink specials all night. A Reel Scary Halloween is sure to be the freakiest Halloween bash in Chicago.
About Fadó Irish Pub and Restaurant:
Fadó (pronounced fuh-doe) Irish Pub and Restaurant Chicago is located in River North at 100 W. Grand Avenue. Fado Irish Pub offers traditional Irish food, contemporary fare and an extensive list of European draft beers as well as weekly trivia, live European sports and live music. For more information about Fado Irish Pub and Restaurant Chicago's happy hour specials, visit their website.
Fadó Irish Pub and Restaurant opened in Chicago in 1997. Fadó is distinguished by its genuine Irish hospitality, quality and craic (pronounced 'crack', a uniquely Irish form of fun).Fadó has been voted 'Best Of' by a number of local and national publications. Get more information about the pub on Facebook.