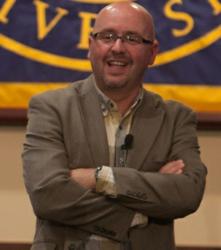 Every leader in every organization should be asking, 'What does the social revolution mean to us and how should we build it into our business plans?'
Doylestown, PA (PRWEB) October 11, 2012
Leaders seeking to capitalize on opportunities and overcome challenges created by the social media revolution will participate in The Social Business Future Conference, November 9, at Delaware Valley College in Doylestown PA, according to Chuck Hall, conference producer.
"Facebook now has 1 billion users – including our employees, customers and competitors," Hall said. "People are connecting, communicating and collaborating on numerous social platforms. Every leader in every organization should be asking 'What does the social revolution mean to us and how should we build it into our business plans?'"
The Social Business Future, presented November 9 by Delaware Valley College and SoMeBizLife Conferences on the college campus in Doylestown, PA, will help leaders understand the power of social platforms such as Facebook, Twitter, Linkedin, Google+ and more, learn best practices, and create their own social business strategies. Registration and complete information are available at http://www.TheSocialBusinessFuture.com
The opening keynote speaker will be Jeanne Carboni, a Senior Director at SAP, who leads SAP Community Network (SCN) Collaboration Team. Along with her worldwide team, her responsibilities include nurturing and growing a community of more than 2 million SAP professionals – customers, partners and employees – who come together virtually and face-to-face to share knowledge and solve business problems. The Collaboration Team engages with people both inside and outside the community to encourage powerful participation and strong relationships, resulting in good business for SAP customers and additional revenue for SAP.
Conference tracks will include presentations, case studies and hands-on planning in: Executive Leadership, Human Resources, Marketing, Education & Corporate Training, Community Food & Farming, and Small Business. Track leaders are:
Executive Leadership
Craig Brown, Communication and Change Management Consultant: For 20 years, Craig managed communications and large-scale changes for Prudential, Nationwide, The Hartford and Lincoln Financial. He was also director of HR communications and change management for Mylan, the world's third largest generic pharmaceuticals company.
Greg Lowe, Principal EngageWorx Consulting, and Social Business Evangelist: Greg has 20 years of experience in Fortune 500 companies. Greg helped Alcatel-Lucent successfully use social business solutions by breaking down organizational silos and helping people find answers faster. Greg also worked for Yammer as the Enterprise Social Networking Strategist.
Jim Worth, Senior IT Executive: Jim has successfully introduced new technology in large corporations for 25 years. He has held senior IT leadership roles at Philips Electronics, Wyeth Pharmaceuticals, and most recently Merck, where he built a collaboration environment bringing Facebook-style sharing capabilities to the 90,000 member global workforce.
Human Resources
Matthew Levy, HR Executive, Career Coach, Keynote Speaker and Author: Matt is Global Human Resources Lead at Johnson & Johnson. Prior to this, Matt was Director, Recruiting for Johnson & Johnson's pharmaceutical research and development business unit. Before J&J, he led talent acquisition for Amgen's commercial operations and corporate staff groups.
Marty McDonald, Co-Founder and Chief Strategy Rhino at Bad Rhino Inc.: Marty helps clients grow their online presence by identifying which social channels are critical for their business, and helping them to engage the right audience. Prior to Bad Rhino, Marty was recruitment lead, Americas for QlikTech Inc., and a management consultant/ talent acquisition specialist with TWC (Comsys).
Marketing
Don Lafferty, CMO, Mingl Social: After more than 20 years in sales and marketing, Don became involved in social media long before the term was coined. Don has been on the forefront of the global conversation around effective, appropriate use of social media and is a regular speaker at industry conferences, university marketing programs, and local business organizations.
Cari Sultanik, Director of Interactive Account Management, FulcrumTech: Cari works with clients on email-marketing, search engine optimization (SEO), and social media. Before FulcrumTech, Cari architected and managed the social media and community programs at Nutrisystem. She has worked at Electronic Ink, a web user experience design firm, and Advanta, a financial-services company.
Education & Corporate Training
Donna Murdoch, Online & Digital Learning Consultant: Donna has been involved in technology and its applications in education since she founded her own company, The TechKnows, over a decade ago. She is well-versed on educational technology, tools, and social learning of all types. She was a founding educational consultant for New York Mayor's Office of Adult Education and Social Media in Education Fellowship, and works with Philadelphia FIGHT's digital inclusion training and advocacy efforts.
Community Food & Farming
Kimberly Graziano, Independent Food & Wine Consultant: Kim is a food and wine professional with expertise in sales, marketing, business development, and event planning. She has over 15 years of experience in the culinary and wine industries. Kimberly is an Event Planner and Wine Sales Rep for an award winning Pennsylvania Winery.
Anne Biggs, Independent Communications Professional: Cookie Biggs helps organizations communicate and connect with their customers and stakeholders. She serves on the board of the Bucks County Foodshed Alliance, a nonprofit that works to strengthen our local farming economy and improve availability of local, sustainably grown food.
Small Business
Jennifer Phillips April, Independent Copywriter & Social Media Trainer: Jen Phillips April is a copywriter and social media consultant who helps businesses maximize ROI from social media. Her work with clients from Forbes list of 25 Most Influential Women Tweeting About Entrepreneurship has received national recognition.
Rick Toone, Principal of Shoot Better Video: A video expert and avid social media practitioner, Rick has shot in 12 countries, and filmed a dozen movies and several HBO comedy specials. Rick has done more than 1,000 national spots for major brands from American Airlines to Mazda, Pepsi, and AT&T. He's had over Superbowl 50 spots and contributed to numerous Olympic, Academy award and MLB commercials.
The closing keynote will be presented by Mike Maney, head of influencer management at Alcatel-Lucent. Mike will share how he and his colleagues are collaboratively creating The Social Business Future. At Alcatel-Lucent, Mike leads non-tradiitonal media strategy across the company's software and services business. His role combines traditional public relations, social media, community building/management, marketing, business development and direct client involvement.
For more information and to register, go to http://www.TheSocialBusinessFuture.com