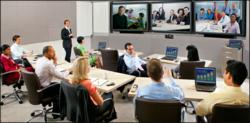 "True Data's vast knowledge of voice and video communications has enabled us to quickly and easily put these cutting-edge solutions in our customers' hands."
Carlsbad, CA (PRWEB) October 16, 2012
True Data Technology announces new and advanced accreditations through Polycom's advanced certification programs.
Solutions for True Data's customers include Polycom Video, Infrastructure, Circuit Switched Voice, Microsoft Lync endpoints, VoIP, Wireless and Video Border Proxy. By obtaining all possible Polycom product certifications, True Data is able to furnish customers with the highest level of flexibility and satisfaction.
"True Data is excited to add Polycom's advanced lines of video and voice conferencing solutions to our product lineup," said Brett Palenscar, CIO of True Data. "As bandwidth becomes faster and more affordable, quality video conferencing becomes a viable solution for all businesses. True Data's vast knowledge of voice and video communications has enabled us to quickly and easily put these cutting-edge solutions in our customers' hands."
"The ability for our customers to conduct high-definition video conferencing from multiple locations around the world will drastically reduce travel expenses," Palenscar continued. "The ROI on these solutions is incredible."
The Benefits of Advanced Partnership
True Data's certified advanced partnership serves two purposes: The first is meeting the multimedia communication needs of their customers in all market sectors, and the second is acting as a vessel for clients to take their concept framework to installation through on-going support and management.
True Data's commitment to meeting customer needs extends to economic efficiency, team collaboration and mobility throughout all industries, spotlighting Polycom's HD TelePresence & Video Conferencing, and Spectralink wireless phones.
Partnering to Bring Customers the Best Video and Wireless Solutions
True Data's integration with Polycom's HD TelePresence & Video Conferencing offers exceptional point-to-point video quality, so businesses can effectively collaborate with colleagues, partners and customers, while alleviating monetary expenditures and travel time. TelePresence can also drastically reduce closing times in certain industries, as admins can bring on subs in minutes and answer questions that would have previously taken days.
True Data's integration with Polycom's Spectralink wireless provides mobility for industries from healthcare to manufacturing. Enabling in-house staff mobility allows them to perform their jobs more effectively. Workers who have immediate access to each other significantly increase productivity. Wireless handsets allow users to stay in touch while moving throughout the facility – even in environments covering millions of square feet, with multiple buildings and with environmentally challenging coverage areas.
Located in Carlsbad, California, True Data Technology has provided leading-edge video and telephony sales and service to the military, government and public- and private-sector businesses nationwide since 1991. Over the past two decades, True Data has remained at the forefront of technology and advanced communication solutions. True Data can be reached at 1-800-331-3307.