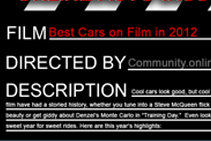 Los Angeles, CA (PRWEB) October 11, 2012
The year 2012 is drawing to a close. For every year that passes there's a great batch of movies, and for every batch of movies, there is usually a batch of really sweet cars.
This year was no exception.
Whether it was a custom-made Acura carrying superhero alter-egos in "The Avengers" or an El Camino carrying the original Joe in "G.I. Joe: Retaliation," filmgoers have been treated to a nice selection of rides on celluloid in 2012.
In a new infographic, OnlineAutoInsurance.com drools over this year's filmic vehicles that include an armored car in "The Dictator," a flying Chrysler in "Total Recall" and a tank disguised as a mini-jet in "The Dark Knight Rises."
Aside from those pictured in the infographic, there were other awesome vehicles left out of the running, simply because no countdown can catch everything. Here are two more choice selections:
Prometheus
A crew of space-explorers land on an alien, planetoid moon in search of answers. Along the way, they ride in futuristic vehicles called the RT01 and EX01. The former is a massive group transport vehicle (think Hertz van with a lot of technology) and the latter is a two-person transport vehicle (think dune buggy in a couple hundred years). Both were made as real-life, working vehicles that aren't exactly road legal here. But those hulking bad boys still traversed the landscape of LV-223 with much aplomb.
The Hunger Games
The dystopian future of "The Hunger Games" isn't exactly crammed with cars. After all, most denizens of the post-apocalyptic Panem are starving and Jennifer Lawrence's Katniss is only equipped with a trusty bow and arrow as her weapon as she battles fellow teens in a televised game of death. Still, one of the story's dozen districts, District 6, specializes in transportation and sports a nice handful of hovercrafts that ferry unfortunate participants from the games when they are killed.
Want to see which other cars on film made our list? Find out by checking out the infographic and visiting the OAI community forum to talk about your own favorite car in cinema.