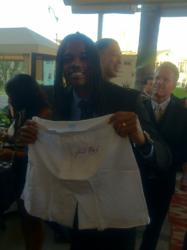 Columbia, South Carolina (PRWEB) October 14, 2012
Landau Eugene Murphy, winner of America's Got Talent, stop by the Ubatuba booth at the Primetime Emmy Awards. In congratulations, Ubatuba gives Landau Eugene Murphy a pair of Ubatuba's.
This gum chewing, Frank Sinatra sound alike wooed the crowd on America's Got Talent.He was perfect. Next time, in Las Vegas, he will be wearing his Ubatuba's and thru the sheer comfort of Ubatuba, Landau will again sing to the enjoyment of everyone.