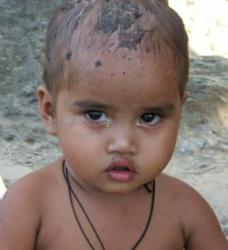 "Poverty is the worst form of violence."
Mahatma Gandhi
Kalama, Washington (PRWEB) October 12, 2012
It is not compressible. How can it be possible to shop, talk, chat, and e-mail from one side of the world to the other, but within a few short hours travel, and less, people are hungry, ignorant, and sick, with infant mortality rates reaching above 50%? The Mangyan, the poorest of the poor, shunned and forgotten live and die a miserable existence. These conditions are not exclusive to any one area of the world, but exist in many countries in a wide variety of settings. The two sides are years apart and on the one side it is estimated that every year 15 million children die of hunger; on the other side is all that technology has to offer and consumers go into withdrawal if the internet doesn't work for a few hours, or the electricity goes out, or a meal is missed. With all our technology, why can't the problems of hunger and ignorance be solved? The answer lies within us each individually to do our part.
There are many organizations and individuals working to bridge the gap. Those who have worked for the underprivileged recognize the joy in seeing a child transformed from misery to contented happiness. One such child is Christina who first began attending the village school established by Laymen Ministries http://www.lmn.org/philippines as the government does not have schools in these remote villages. The village school only goes to the 6th grade and most young girls are pressured to marry even before they complete this school – in fact as soon as they reach puberty. Christina is a bright girl and desires greatly to complete her education. She is now sponsored by http://plumchumkids.com. She is 18-years-old and in the 9th grade. Christina desires to become a nurse and give back to her people.
Plum Chum Kids Store also sponsors a child through World Vision http://www.worldvison.org, and donates to various other charitable organizations to help educate and feed children. They collect clothing and school supplies and ship boxes via LBC http://www.lbcexpress.com to remote schools that have no other resources.
Plum Chum Kids Store was started in March 2012 with a mission to educate and feed children in third world countries. Plum Chum Kids Store is owned and operated by Best Deals Galore Enterprises, Inc., a privately held company located in Kalama, Washington. For unique and cute kids clothing, furniture, and educational toys visit http://plumchumkids.com. For further information e-mail support(at)plumchumkids(dot)com.