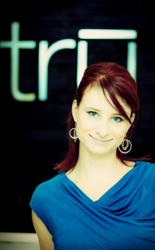 Nature gives you the face you have at twenty, it is up to you to merit the face you have at fifty

Coco Chanel
Toronto, ONTARIO (PRWEB) October 11, 2012
Tru Vitality Clinic – Yorkville's Freshest Face
Tru Vitality Clinic ("Tru") opened it's doors on August 1st, 2012 at 70 Yorkville Ave in the heart of Yorkville, Toronto, Ontario and have been having a blast ever since!
Tru is a uniquely original medical spa in the health & beauty services industry choosing a non-conformist approach to their services and offerings. Tru encourages women to appreciate their own beauty and focus on anti-aging from the inside out, offering services such as Anti-aging Solutions, Medical Laser Rejuvenation, Skin Replenishing Treatments, as well as a variety of Vitality Workshops & Life Coaching.
Redefining Authentic Beauty is not just their motto, it is their mission.
"Women can get laser treatments and facials just about anywhere but what I am creating is a movement; a community of women who celebrate authentic beauty, empower each other, and endeavor to live rich, vibrant lives." says Cate Moore, Owner and Creator of Tru Vitality Clinic. Cate has 15 successful years in the medical industry and she is more impressive in person as she is on paper. She believes her success with Tru in Yorkville will not be borne out of past career experiences but rather out of the wealth of inspiration provided by the vibrant women that surround her every day. The type of women who have the learned the power created by having the courage to accept and embrace the woman in the mirror. Dynamic, powerful, inspiring. Like the community of incredible women she is growing around her, Catherine is Tru, in every way!
To continue building this unique community, Tru Vitality Clinic will be hosting a Beautylicious wrap-up party on November 3rd from 7-10pm with ALLURE Hair & Makeup !
DRIVE films will capture 3 authentically beautiful women sharing their stories as guests are spoiled with incredible wine, food, & draws for prizes totaling $3000.
Bring a friend and be part of the production while we broadcast live around the world with THE MOFFETT COMPANY & then continue at the after party!
Beauty is unique, let's keep it that way.
For more information please contact Catherine Moore at @TRU_Vitality on twitter or via e-mail at cate(at)truvitalityclinic(dot)com.
Visit the website at http://www.truvitalityclinic.com for more details.