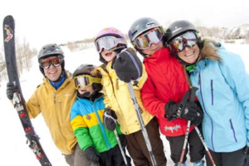 Aspen, Colorado (PRWEB) October 12, 2012
The Stay Aspen Snowmass Powder Play Package, geared towards those planning a March ski vacation in Aspen and Snowmass, presents Aspen-bound travelers with a bundle of deals and discounts on skiing and snowboarding on all four local mountains. Discounts included in the Powder Play Package include savings on Aspen ski lift tickets, Four Mountain Sports ski and snowboard equipment rental, and an Aspen Snowmass Ski School special.
With the Powder Play Package, when buying 1 ski lift ticket, purchasers receive the second ski lift ticket half-off. There is a minimum ski lift ticket purchase of 3 days. A similar deal is available when renting ski and snowboard equipment at Four Mountain Sports. When purchasing one equipment rental package at Four Mountain Sports, purchasers receive a second ski and snowboard equipment rental package half-off. There is also a 3-day minimum purchase with Four Mountain Sports equipment rental packages.
When booking the Powder Play Package with Stay Aspen Snowmass, visitors will receive a special Aspen Snowmass Ski School Quick Tips private lesson. This Ski School offer is available with each package purchased. The Quick Tips private lesson offered by the Aspen Snowmass Ski School is one hour long.
The Powder Play Package is valid for an Aspen Snowmass spring ski vacation from March 1 – 18, 2013. To take advantage of these discounts and deals on a ski vacation in Aspen, the Powder Play Package must be booked by January 28, 2013. Call 855.536.7250 to book the Powder Play Package as this Stay Aspen Snowmass ski vacation package cannot be booked online. Our Stay Aspen Snowmass vacation experts can assist with booking the Powder Play Package along with Aspen lodging, transportation, and activities.
---
Stay Aspen Snowmass is the official central reservations for Aspen and Snowmass Village. SAS represents all of the Aspen and Snowmass lodging community including hotels, condos, and homes. We offer one-stop shopping for discounted Snowmass and Aspen vacations including air transportation to Aspen, Denver, and Eagle. Our team of local vacation experts live, work, and play in Aspen and Snowmass. We look forward to planning your summer vacation to the Rocky Mountains.