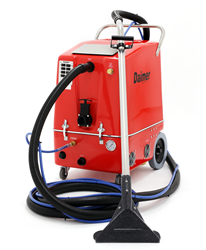 The XTreme Power® carpet cleaning machines make cleaning carpeting significantly faster and more effective.
Woburn, MA (PRWEB) October 11, 2012
Daimer Industries, Inc.®, supplying the most comprehensive selection of cleaning machines in the industry with over 600 models, has released its USA made XTreme Power® XPH-9600 carpet steam cleaner systems. The systems offer Daimer®'s low-flow technology, temperatures up to 210ºF within three to five minutes, and heavy-duty, completely variable-pressure 500 psi pump systems. The pressure flow rivals the outflow force typically emitted by top of the line truck mount carpet cleaners. Operators can dial the desired pressure level, depending upon the specific type and condition of the carpet fibers, and also when using an optional upholstery tool.
"Commercial cleaning professionals and those performing carpet cleaning maintenance within business and non-business sectors can now achieve outstanding cleaning power results," says Daimer Industries® spokesman, Matthew Baratta. "The XTreme Power® carpet cleaning machines make cleaning carpeting significantly faster and more effective."
The XTreme Power® XPH-9600 commercial carpet cleaners use 110 volt power, and are optimized for both low-pile commercial and higher-pile residential carpeting. The system features three powerful 2-stage motors and 250 inch water column lift for maximum suction and minimal drying time. The carpet cleaners come bundled with 100 feet of hoses in 25 foot sections, so users can daisy-chain to reach the length most appropriate for the job, without needing to use any unnecessary lengths whenever possible.
Importantly, operators can maximize productivity as they can clean up to a 31,000 radius without moving the machine. Self-regulating, user-selectable auto-fill and auto-dump functionality allows the machine to manage the inflow of clean water and outflow of recovered water to a drain or commode, for the most efficient process.
Higher pressure is an essential factor when cleaning carpet for professional results. The XPH-9600's 500 psi helps to quickly remove dirt and grime from within the deepest carpets with less effort than when using lower-pressure models. Unlike truck mount carpet cleaners with drying times up to 24 hours, the 9600 offers low drying times up to within only two hours. The carpet cleaning machines are especially ideal for commercial cleaning contractors, hotels, businesses, and restaurants, property managers, and other seeking outstanding cleaning results and the fastest drying times.
The carpet steam cleaners come equipped Daimer®'s patented wand technology, which offers 60% greater suction than any other wand in the industry. The power is equivalent to a vacuum motor, resulting to even shorter drying times.
Daimer® is offering free with each of the commercial carpet cleaners two gallons of its completely plant-based, soap-free, Eco-Green® Carpet Care & Upholstery Cleaner. The concentrated liquid can make enough RTU (Ready-To-Use) solution to clean up to 64,000 square feet of carpet.
For More Information:
Visit Daimer.com or call Matthew Baratta directly at (888) 507-2220 for additional product information on this or any of Daimer®'s products. The equipment, also configurable in 220-240 volt, 60 Hz and 50 Hz power, is available for exportation to over 200 countries worldwide.
About Daimer Industries, Inc.®:
Daimer Industries® is the world's leading supplier of cleaning equipment, such as carpet cleaners, pressure cleaning equipment, gum removers, and tile and floor cleaning machines. Daimer Industries® also offers other technologies and patented technologies for most cleaning applications.