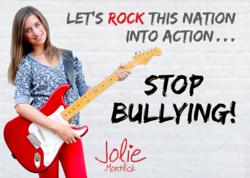 "Kids throughout the country should see this video." -- School Principal
Atlanta, GA (PRWEB) October 11, 2012
The Anti-Bullying Rally, to be held from 6:00 pm to 8:30pm on October 11th at Liberty Middle School in Cumming GA, will draw together local community leaders, government representatives, parents, and students to help raise awareness about bullying, and discuss ways to prevent the harmful behavior that affects over 50% of children. The newly released music video, "My Song for Taylor Swift", written and performed by 10-year old Jolie Montlick with a cast of over 150, will be featured at the rally. The video provides a powerful example of kids stepping up and doing the right thing when faced with bullying. The rally will also include an Anti-Bullying Workshop for parents and a private screening of The Fat Boy Chronicles for kids grades 6 and up.
Jolie Montlick is a national spokesperson for Ambassadors 4 Kids (A4K), and has appeared in public service television announcements and news interviews on behalf of the organization. A4K is a national, non-profit youth organization whose mission is to prevent and stop bullying and other forms of abuse.
"We are very proud of Jolie. It takes a very brave person to put herself in the public eye at such a young age. What she is doing is amazing and will save kid's lives!" says Lin Seahorn, Founder of Children Without a Voice, USA and A4K. "We hope showing Jolie's video at the rally will empower bystanders to become Ambassadors 4 Kids."
Jolie Montlick, wrote "My Song for Taylor Swift", after attending Swift's Speak Now Concert. "I was inspired by Taylor and how she didn't let bullying stop her from achieving her goals," says the 5th-grader. "One of my goals is to inspire kids to step in when they see others being mistreated. Kids need to use their voices and not be silent bystanders. Many times it can be as simple as sitting down with someone who is alone at a table, or being a friend to someone who is being picked on. The little things can make a big difference."
The music video "My Song for Taylor Swift" can be seen at JolieMontlick.com. 100% of the net proceeds from the sale of the song (available on iTunes) will go to support Ambassador 4 Kids Club (a4kclub.org).
About Jolie:
When not in school or working on her music, Jolie gives generously of her time to help others. Jolie serves as a National Spokesperson for A4K, and is also a 2nd degree black belt and two-time state champion in Tae Kwon Do. She has helped teach self-defense and life skills to over 1,000 kids. In addition to "My Song for Taylor Swift", Jolie has just released three new singles: "Just One Day", "Crazy For You" and "Need You." For more information, please visit JolieMontlick.com.
Please contact us for access to broadcast quality video files, high-resolution photos and mp3 files.