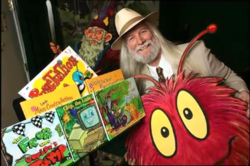 "My goal is to give kids a head start on life," said Dr. Hope
(PRWEB) October 11, 2012
Children's book author, Tim 'Dr. Hope' Anders, has just added a new feature article section on his website. The new feature section includes titles of articles related to recent children's book news in the industry.
"Besides great bedtime stories for kids, games, contests, and interactive storybooks, the Laughing Day Library website now makes it convenient for parents to follow and see what's currently happening with children's book news," said Dr. Hope.
The section provides an up-to-date stream of articles compiled from an internet search directly related to the children's book category.
"We thought this would be a great way to keep our readers, whether they are parents or teachers, informed of current events in regards to the children's publishing industry," said Marti Avila of Alpine Publishing, Anders' publishing house.
There are currently a few dozen article posts up on the website; one of the most recent posts is a link to an article titled "J.K. Rowling to Write More Children's Books." The article discusses how Rowling is planning on writing a new novel for children targeted at a younger age than what was intended for Harry Potter.
This streamlining of live news is another great, resourceful addition to Tim 'Dr. Hope' Anders' Laughing Day website.
About Tim 'Dr. Hope' Anders:
Tim 'Dr. Hope' Anders is not only the author of several award-winning children's books, but has also authored several health and lifestyle books along with the true life love story of his parent, his mother an actress and his father a Catholic priest. He is also an avid musician and poker player. For more information about Tim Anders, please visit http://drhope.com/.
About Alpine Publishing:
Alpine Publishing is a publisher of children's books, as well as health and lifestyle books and CD's. Located in Fallbrook, CA, their goal is provide quality books that promote a healthy and happy body, mind and spirit. Marti Avila has been working with Alpine Publishing since 1995 as a partner, then bought the business in February of 2008. Since then, she's made it a point to publish books that teach children valuable lessons and give them a head start in life.