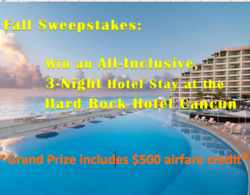 (PRWEB) October 11, 2012
This fall PeterGreenberg.com is upping the ante with its weekly travel contest. On October 11, the Fall Travel Sweepstakes launches with two chances to win a three-night, all-inclusive hotel stay for two at the Hard Rock Hotel Cancun. The grand-prize giveaway will be a 4-night, all-inclusive stay for two at the Hard Rock Hotel Cancun with a $500 airfare credit and a 30-minute massage.
In the next three weeks, Peter Greenberg's audience has three different opportunities to enter the Fall Travel Sweepstakes. Starting on October 11 for one week there will be a sweepstakes link posted on Facebook just for fans of Peter Greenberg. Then starting on October 20, there will be a new sweepstakes drawing exclusively for readers of PeterGreenberg.com. The grand-prize drawing will be live for three weeks for those who subscribe to Peter Greenberg's daily or weekly travel e-newsletter.
All sweepstakes winners will be chosen at random and notified via email.
The Hard Rock Hotel Cancun is celebrating its grand-opening party October 18-21. The Hard Rock Hotel Cancun is the ultimate all-inclusive experience in the heart of the famed hotel zone. The property opens with 601 guestrooms, acclaimed international restaurants, bars and lounges, as well as an expansive poolscape and a spa.
To learn more about Cancun travel, tune into Peter Greenberg Worldwide radio on Saturday October 13, which will broadcast from the Hard Rock Hotel Cancun. Listen to the show live or download Travel Today a destination-driven podcast broadcast from a different remote location around the globe.
Travel Today with Peter Greenberg is available on iTunes and Stitcher. Each show features experts sharing insight about the destination from a local's perspective. In his trademark, no-holds-barred manner, Greenberg uncovers the hidden gems in these destinations, and shares his advice on how to navigate the travel process like a seasoned pro.
Peter Greenberg is America's most recognized, honored and respected front-line travel news journalist. In addition to hosting the nationally syndicated Peter Greenberg Worldwide Radio show, Greenberg is Travel Editor for CBS News, appearing on CBS This Morning, CBS Evening News with Scott Pelley, and CBS Sunday Morning, among other broadcast platforms.