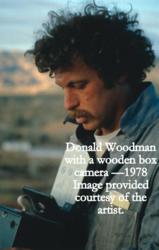 Santa Fe, NM (PRWEB) October 10, 2012
Celebrate photographer Donald Woodman's donation of his archive to the New Mexico History Museum's Palace of the Governors Photo Archives with a special event which starts at 3 p.m, Sunday, Oct. 28, 2012. Woodman will speak about "My Life in Photography: A Career Overview," and the museum will announce the New Mexico Photo Legacy Project. The event is free with admission in the History Museum auditorium. Sundays are free to NM residents. This event can be found on the SantaFe.com event calendar.
For more than 40 years, Donald Woodman has engaged the world through a camera's lens. With a focus that ranges from architecture to therapy, clouds, the Holocaust and small-town rodeos, his evocative results have landed in collections that include London's Victoria and Albert Museum; Switzerland's Museum of Art and History; the New Orleans Museum of Art; and Ohio's Butler Art Institute.
The New Mexico History Museum and the Palace of the Governors Photo Archives is proud to accept Woodman's photographic archives into its collections. Currently housed in the Belen studio that Woodman shares with his wife, artist Judy Chicago, his archive includes negatives, slides, digital media, equipment, diaries, notebooks, correspondence, exhibition records and research. The first group of material to be prepared for the Photo Archives' collection is the series "The Rodeo and the West." Those images have been digitized and can be browsed by clicking here and typing in the keywords "Donald Woodman."
As part of this special event, History Museum Director Frances Levine will reveal details of the New Mexico Photo Legacy Project, an effort to acquire new collections of visual material and provide the financial support to grow the storage facilities needed to support these important new collections. The Photo Legacy Project will also support exhibitions, publications, and research in and of the collections.
The Palace of the Governors Photo Archives contains more than 800,000 prints, cased photographs, glass plate negatives, stereographs, photo postcards, lantern slides and more. Almost 20,000 images can be keyword searched on its website. The materials date from approximately 1850 to the present and cover the history and people of New Mexico from some of the most important 19th- and 20th-century photographers of the West—Adolph Bandelier, George C. Bennett, John Candelario, W.H. Cobb, Edward S. Curtis, Charles Lindbergh, Jesse Nusbaum, T. Harmon Parkhurst, Ben Wittick, and many others.
The Archives actively seeks material from contemporary photographers as well in order to document the past 50 years of visual history in New Mexico. Recent acquisitions include works by Jack Parsons, Herbert A. Lotz, Tony O'Brien, Steve Fitch, David Michael Kennedy, John Willis, Ann Bromberg, and Cary Herz
New Mexico History Museum
113 Lincoln Avenue
Santa Fe, NM 87501
(505) 476-5200
Palace of the Governors
105 West Palace Avenue
Santa Fe, NM 87501
(505) 476-5100
About SantaFe.com:
SantaFe.com provides locals and visitors to Santa Fe alike the most current interactive platform for events, music, arts, business, dining and lifestyle. SantaFe.com is a division of Hutton Broadcasting, located at 2502 C. Camino Entrada, Santa Fe, NM 87507
Contact Information:
Scott Hutton
SantaFe.com / Hutton Broadcasting
http://www.santafe.com
(505) 471-1067 (Media inquiries only, please)