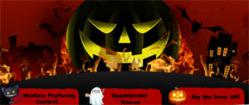 Red Hot Halloween 2012: Bleed for excitement.
Ho Chi Minh (PRWEB) October 12, 2012
Today Audio4fun's 'Nickface' Producing Contest has just been announced, triggering the longest and most anticipated Halloween party for Audio4fun's members. Just by entering this contest, all entrants will definitely be rewarded a full license for one of the approved AV Products just to express gratitude for the time and effort put into each entry. This contest will run until the end of October. For more details, visit this page.
"Right away we loved the idea of people filming one-in-million scary moments in Halloween costumes and then convert them into "Nickfaces," so that anyone can use these great user-created videos again and again while video chatting," said Peter Nguyen, COO of Audio4fun.com. "Then we put that all together into our new 'Nickface' Producing Contest; with this contest, we are expecting the Halloween spirit to just jump out of the monitors," added Nguyen.
Audio4fun is offering, to each entry that is successfully submitted, a Full license to one of their contest-approved products, in the hope that it will become a useful tool for creating great tricks and treats for this Halloween. For enthusiastic entrants with more than one submission, Audio4fun will be giving a single additional license for one of their bestsellers, Voice Changer Software Diamond or Music Morpher Gold.
There are also two other programs named "Spooktacular Free-ze" and "Rip the Price off", still in the works. For further information, as well as to keep up-to-date, visit Audio4fun's Halloween page.