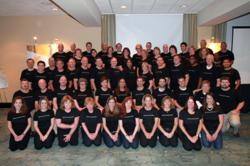 The collaboration, ingenuity, and integrity that our entire team demonstrates is at the core of making Aspen a great place to work.
Denver, CO (PRWEB) October 11, 2012
Aspen Advisors, a U.S.-based global healthcare consulting firm, announced today that it placed #16 in Modern Healthcare's "Best Places to Work in Healthcare" for 2012. This annual recognition of the top 100 employers in the healthcare industry is based on an employer completed benefit survey and employee responses to a 86-question employee engagement and satisfaction survey. A total of 340 healthcare organizations and suppliers to the healthcare industry participated in the program. The majority of employers recognized (61) were provider organizations; four payer organizations were spotlighted; and 35 suppliers, including consulting firms, to the industry were named one of the top places to work. A video announcement, along with a ranked listing of the winners is now available at http://www.modernhealthcare.com/bestplaces.
"Being named among the top 100 best places to work in the industry is a tremendous honor, and being ranked within the top 20 – at number 16 – is outstanding," said Daniel Herman, Founder and Managing Principal at Aspen Advisors. "The collaboration, ingenuity, and integrity that our entire team demonstrates is at the core of making Aspen a great place to work. We are fortunate to be entrusted by our clients to help them achieve their goals of performance, engagement, and accountability. We are having fun and growing our careers doing it."
"Being named to Modern Healthcare's list of the Best Places to Work in Healthcare for 2012 demonstrates that Aspen Advisors has built a culture where employees are supported and engaged, which benefits not only patients and customers but the employer's financial performance as well, " said Fawn Lopez, vice president and publisher of Modern Healthcare. "These healthcare employers are models for others who are seeking to build a successful culture, resulting in optimum performance levels and benefits for their organization."
About Aspen Advisors:
Aspen Advisors is a professional services firm with a rich mix of respected industry veterans and rising stars who are united by a commitment to excellence and ongoing dedication to healthcare. We work with healthcare organizations to optimize the value of their information technology investments. Our experienced team is highly skilled in all aspects of healthcare technology. We understand the complexities of healthcare operational processes, the vendor landscape, the political realities, and the importance of projects that are executed successfully – the first time. Every client is important to us, and every project is critical to our reputation. Established in 2006, the firm has grown significantly year-over-year and has earned accolades for our culture and growth. We were named an "Up and Comer" by Healthcare Informatics in 2010, one of Consulting magazine's "Best Firms to Work For" in 2012, and one of Modern Healthcare's "Best Places to Work in Healthcare" in 2011 and 2012. Our hallmarks are top quality service and satisfied clients; we're proud of our KLAS rankings and that each past and current client is 100% referenceable. Learn more at http://www.aspenadvisors.net/.
About the Award Program:
Modern Healthcare partnered with Best Companies Group, a PA-based firm that administers "best places to work" programs nationwide. Modern Healthcare conducted this program to recognize outstanding employers in the healthcare industry on a national level. From economic development to employee retention, being named one of the Best Places to Work in Healthcare benefits individuals, organizations and the healthcare industry. The program collected information from both the employers and employees and was open to all healthcare companies in the United States with at least 25 employees. The Best Places to Work in Healthcare award has four main categories: All Participating Companies – A comprehensive ranking of all winning organizations; Small Companies – Honors organizations with 25-99 employees; Medium Companies – Honors organizations with 100-999 employees; Large Companies – Honors organizations with 1,000 or more employees.
About Modern Healthcare:
Modern Healthcare is the industry's most trusted, credible and relied-upon news source. Modern Healthcare examines the most pressing healthcare issues and provides executives with the information they need to make the most informed business decisions and lead their organizations to success. It's for this reason Modern Healthcare is deemed a "must-read publication" by the who's who in healthcare. To subscribe, please call Modern Healthcare at 888-446-1422 or email us at customerservice (at) modernhealthcare (dot) com.
Best Companies Group works with partners to establish "Best Places to Work", "Best Companies" and "Best Employers" programs on a national, state-wide and regional basis. Through its thorough workplace assessment using employer questionnaires and employee satisfaction surveys, Best Companies Group identifies and recognizes companies who have been successful in creating and maintaining workplace excellence.