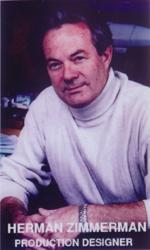 Los Angeles, CA (PRWEB) October 11, 2012
Four-time Emmy® nominated Production Designer and Art Director Herman Zimmerman will receive the Art Directors Guild's Lifetime Achievement Award, Presented by BMW at the Guild's 17th Annual Excellence in Production Design Awards Presented by BMW on February 2, 2013. The announcement came today from Thomas A. Walsh, ADG chairman, and Awards Producers Greg Grande and Raf Lydon. For the first time, the Guild's coveted honorary Lifetime Achievement Award will be designed by DesignworksUSA, a subsidiary of the BMW Group. A BMW Design chief executive will present the award to Zimmerman at ADG's black-tie awards ceremony at the Beverly Hilton Hotel.
Previous recipients of the ADG Lifetime Achievement Award are Production Designers Ken Adam, Robert Boyle, Albert Brenner, Henry Bumstead, Roy Christopher, Stuart Craig, Bill Creber, John Mansbridge, Terence Marsh, Harold Michelson, Jan Scott, Paul Sylbert, Dean Tavoularis, and Tony Walton.
Best known for his work on the Star Trek franchise, Zimmerman began his career in 1965 working for NBC as assistant art director on Days of Our Lives. He worked on more than 35 television series and theatrical films throughout his 47 years in the industry. He originally aspired to be an actor, having studied acting and directing at Northwestern University. He changed his major to Theatre Production and ultimately became an Associate Professor of Drama at Northwestern where he was a Technical Director and Scene Designer for the campus theatre and the Evanston Children's Theatre.
Joining the Paramount Pictures' Star Trek franchise as Production Designer and Original Set Designer in 1987 with Star Trek: The Next Generation (1988-1994), Zimmerman also worked on six of the Star Trek feature films: Star Trek V: The Final Frontier (1989), Star Trek VI: The Undiscovered Country (1991), Star Trek: Generations (1994), Star Trek: First Contact (1996), Star Trek: Insurrection (1998), Star Trek: Nemesis (2002), as well as the Star Trek: Deep Space Nine (1993-1999) and Star Trek: Enterprise (2001-2002) TV series. He wrote the introduction for the 1995 reference book The Art of Star Trek, and co-wrote the 1998 reference book Star Trek: Deep Space Nine Technical Manual, as well as being featured as himself in many Star Trek documentaries.
Zimmerman's distinguished work with various Star Trek projects earned him the Excellence in Production Design Award – Television at the First Annual Art Directors Guild Awards in 1997 for Deep Space Nine, as well as four Emmy® nominations for Outstanding Art Direction for a Series in 1993, 1997, 1998 and 1999. Even though he also produced and directed numerous TV commercials, Zimmerman's work was not limited solely to TV and film. He worked alongside the Paramount Parks Design and Entertainment team when they acquired the five Great America theme parks. He was the consulting designer on the multi-million dollar Star Trek Experience at the Las Vegas Hilton, and had side projects that included being the Entertainment Manager of a casino in Reno, NV, the owner of a scenic studio and construction shop, and also collaborating on a real-life "holodeck" with the Institute for Creative Technologies; a collaboration between the U.S. Army, USC and Hollywood, creating virtual reality in real time for education.
His many other credits include: Happy Days (1984), Cheers (1983-1986), Land of the Lost (1974-1976), Joanie Loves Chachi (1982), A Rumor of War (1980), The Ellen Burstyn Show (1986), The Burning Bed (1984), Brothers (1984-1986), All I Want for Christmas (1991), One Crazy Summer (1986), Black Rain (1989), Better Off Dead… (1985), and Webster (1985-1988).
"Herman's many achievements are an inspiration to us all. Just like the many voyages of the Star Ship Enterprise, throughout his career he has boldly gone to and excelled at furthering his commitment to design excellence within many disparate forms of our profession," says Walsh. "Whether it was for features, television, cable, exhibition or themed architecture, Herman has done it all and with great style, passion and perfection."
Nominations for this year's ADG Awards Excellence in Production Design Awards Presented by BMW will be announced on January 3, 2013. The ADG will present winners in nine competitive categories for theatrical films, television productions, commercials and music videos on February 2, 2013. A recipient for the Guild's Outstanding Contribution to Cinematic Imagery Award and three new inductees into its Hall of Fame will be announced in the near future. Paula Poundstone will host this year's ADG Awards for the fourth consecutive year.
ADG Awards are open only to productions, when made within the U.S., by producers signatory to the IATSE agreement. Foreign entries are acceptable without restrictions.
Media sponsors are The Hollywood Reporter, Daily Variety, and Shoot.
About the Art Directors Guild:
The Art Directors Guild (IATSE Local 800) represents nearly 2,000 members who work throughout the United States, Canada and the rest of the world in film, television and theater as Production Designers, Art Directors, and Assistant Art Directors; Scenic, Title and Graphic Artists; Illustrators and Matte Artists; and Set Designers and Model Makers. Established in 1937, ADG's ongoing activities include a Film Society; an annual Awards Banquet, a creative/technology community (5D: The Future of Immersive Design) and Membership Directory; a bimonthly craft magazine (Perspective); and extensive technology-training programs, creative workshops and craft and art exhibitions. The Guild's Online Directory/Website Resource is at http://www.adg.org. Follow ADG on Twitter: @ADG800
About the BMW Group:
The BMW Group is one of the most successful manufacturers of automobiles and motorcycles in the world with its BMW, MINI, Husqvarna Motorcycles and Rolls-Royce brands. As a global company, the BMW Group operates 29 production and assembly facilities in 14 countries and has a global sales network in more than 140 countries.
In 2011, the BMW Group sold about 1.67 million cars and more than 113,000 motorcycles worldwide. The profit before tax for the financial year 2011 was euro 7.38 billion on revenues amounting to euro 68.82 billion. At 31 December 2011, the BMW Group had a workforce of approximately 100,000 employees.
The success of the BMW Group has always been built on long-term thinking and responsible action. The company has therefore established ecological and social sustainability throughout the value chain, comprehensive product responsibility and a clear commitment to conserving resources as an integral part of its strategy. As a result of its efforts, the BMW Group has been ranked industry leader in the Dow Jones Sustainability Indexes for the last eight years.
http://www.bmwgroup.com
Facebook: http://www.facebook.com/BMWGroup
Twitter: http://twitter.com/BMWGroup
YouTube: http://www.youtube.com/BMWGroupview
Google+: http://googleplus.bmwgroup.com
NOTE TO MEDIA: A photo image of Herman Zimmerman is available electronically by contacting Paige Guritzky: paige (at) publicity4all (dot) com
PRESS CONTACTS:
Weissman/Markovitz Communications
Lindajo Loftus, Cheri Warner
Tel: 818.760.8995
Lindajo (at) publicity4all (dot) com, Cheri (at) publicity4all (dot) com