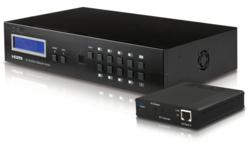 Europe's very first 8x8 Matrix to provide true HDBaseT 5-Play™ functionality.
Nottingham (PRWEB UK) 13 October 2012
Audio Visual distributor CIE-Group have this month begun shipping the new CYP PU-8H8HBTE HDBaseT™ 8x8 Matrix, described by CYP as Europe's very first 8x8 Matrix to provide true HDBaseT 5-Play™ functionality.
Providing huge benefits for installation in the professional Audio Visual and Home Entertainment System markets, the new PU-8H8HBTE 8x8 HDBaseT Matrix is CYP's flagship solution for full HDBaseT™ 5Play™ convergence.
CYP's latest HDBaseT 5Play Matrix allows full distribution and switching of up to 8 HDMI sources, LAN (Local Area Network), RS-232, 2-way Infrared and Power-over-Ethernet, transmitting signals over lengths of up to 100 metres using only a single standard Cat5e/6 cable – providing significant reductions both in cable infrastructure and installation times.
This high performance single-box solution enables the AV installer to confidently integrate up to 8 zones in multi-room, multiple input AV systems. The PU-8H8HBTE is designed to be used with CYP PU-507RX Receiver Units which can make full use of the Power-over-Ethernet capabilities of the Matrix.
In addition, the new PU-8H8HBTE Matrix offers LAN serving capabilities to provide internet connectivity to each of the 8 zones. The CYP 8x8 Matrix also features IP control allowing users to access and control the Matrix remotely and will also support additional options for third-party control systems including Control 4, RTI, Crestron, AMX, Control FX and RTI. (CYP provide control drivers for all these systems at no extra cost).
The PU8H8HBTE is the first HDMI 8x8 Matrix available in Europe which can boast complete, true 5-Play convergence of the HDBaseT platform. For the first time, installers and integrators can confidently distribute and control HDMI and a multitude of signals over just a single Cat5e/6 cable infrastructure over lengths of up to 100 metres.
INTRODUCING ETHERNET AND IP CONTROL:
The CYP PU-8H8HBTE Matrix latest features include an integrated Ethernet switch and dedicated IP control via PC or smartphone / tablet device. The two-way Ethernet switch allows an installer to insert a LAN connection at either the Matrix end or into any of the Receivers. No matter where the LAN connection is made, the Matrix and all Receivers will be enabled to carry full 100BaseT internet connection through the Matrix network. This feature can be of huge benefit particularly in large system situations where Wi-Fi signals may be low or unavailable or where users require dedicated internet connections for smart TVs.
The IP functionality of the PU-8H8HBTE Matrix has been designed for complete simplicity. Without the need for any driver software, the Matrix is simply assigned a static IP address on the network and then accessed via any browser connected to the same network. This can be controlled via PC or handheld devices such as iPhone, iPad, smartphone or tablet PCs.
This IP functionality can be hugely beneficial not only for the end-user themselves, but also to allow remote access for testing each zone during installation and for any future maintenance by the AV integrator.
What is HDBaseT 5-Play?
HDBaseT technology is a consumer electronic connectivity technology which allows connection of high performance audio visual devices, transmitting HD digital video, audio, 100BaseT Ethernet, Power-over-Ethernet and a range of control signals via a single standard Cat5e/6 cable – transmitting all these signals over distances of up to 100 metres!
Take a look at this short video explaining HDBaseT 5-Play in very simple terms: What is HDBaseT 5-Play? video
PU-8H8HBTE Product Features:

Supports all v1.3 HDMI resolutions
Supports uncompressed video/audio up to 10.2Gbps
Common supported resolutions:
HDTV: 480p, 576p, 720p, 1080i, 1080p, 1080p24.
PC: VGA, SVGA, XGA, WXGA, SXGA, UXGA, WUXGA.
HDMI, HDCP and DVI complaint
High Definition Audio supported: Dolby TrueHD, Dolby Digital Plus and DTS-HD Master Audio plus LPCM (up to 192kHz)
Uncompressed data transfer over single CAT cable (100m - CAT6; 80m - CAT5e)
Supports third-party control systems, with drivers available for: Control FX, AMX, Crestron, RTI, Control 4
Supports HDMI input up to 15m 1080p 8bit, or 10m 1080p 12bit
Supports RS-232, 2-Way IR, Manual Selection Buttons, and HDMI CEC control pass through
Selectable EDID settings - TV (downstream) and STD (fixed)
Supports 3D signals, additional IR control and LAN serving to all connected zones
Supports full IP control
NOTES TO THE EDITOR:
CIE-Group has a 45+ year history of supplying high quality solutions to the professional Audio Visual industry, developing a comprehensive range of products to meet the demands of the AV, PA and CCTV installation, hire and presentation sectors.
Committed to providing the industry with innovative solutions and unsurpassed pre and post-sales service, our products are used by many of the UK's leading audio visual installers, blue chip companies, high street brands and sound system providers throughout the UK.
CIE-Group is the UK master distributor for leading AV & PA brands including Inter-M, Clockaudio, Atlas Sound, Armstrong i-ceilings, Switchcraft and, most recently, CYP.
http://www.cie-group.com
CYP Europe has been developing AV distribution and signal conversion solutions since the early 1980s. From its' origin as a manufacturer of world standards converters, the company has evolved steadily over the last twenty years to be regarded now as a leading global manufacturer of AV connectivity and distribution solutions. CYP's latest ranges of HDMI-over-CatX and HDBaseT products are considered by many professional integrators as the most innovative and reliable solutions on today's market.
http://www.cypeurope.com
For further information on this Release, please contact:
Chris Edwards, Marketing Director
CIE-Group Ltd, Widdowson Close, Blenheim Ind Est, Bulwell, Nottingham, NG6 8WB
T. 0115 9770075 F. 0115 9770081
E. chris.edwards (at) cie-ltd (dot) co (dot) uk W. http://www.cie-group.com