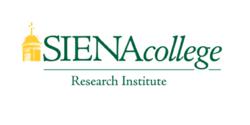 This one may be decided on who turns out and how the last minute deciders feel as they walk into the polls on November 6th
Loudonville, NY (PRWEB) October 17, 2012
Murphy 46%, McMahon 44% - Senate Seat Up for Grabs
Obama Leads Romney by 15 in Nutmeg State
With only three weeks to go before the election, Congressman Chris Murphy leads Republican Linda McMahon 46 percent to 44 percent among likely Connecticut voters according to a new Siena College Research Institute (SRI) poll released today. President Barack Obama now is the choice of 53 percent while Governor Mitt Romney has the support of 38 percent of voters.
"At this point, Connecticut's electoral votes appear solidly blue as the President has opened up a 15-point lead with a commanding margin among Democrats and a five-point bulge among independents. The identity of Connecticut's next junior senator is far too close to call. Right now, Murphy leads among Democrats but with one in five D's crossing party lines and independents favoring McMahon by five points, Murphy's two point lead is razor thin," said SRI's Director Don Levy.
Both Murphy and McMahon are viewed unfavorably by more voters than those that have a favorable view of each candidate. McMahon has a 41 to 49 favorability rating while Murphy's is 36 to 45. The President has a positive ranking with a majority, 55 percent, seeing him favorably while 41 percent view him unfavorably. Governor Romney has a negative rating with 42 percent favorable and 51 percent unfavorable.
"Connecticut residents now have high negatives towards both McMahon and Murphy with over one in ten viewing both candidates unfavorably. Murphy is underperforming relative to the top of his ticket while McMahon has more support among most groups than does Romney. This one may be decided on who turns out and how the last minute deciders feel as they walk into the polls on November 6th," said Levy.
This Siena College Connecticut Pre-election Poll was conducted October 4-14, 2012 by telephone calls to 552 likely voters. A likely voter screen was applied to the sample of registered voters identified through random digit dialing sampling via both land and cell phone calls. Data has been statistically adjusted to reflect party registration, gender and age. It has a margin of error of +/- 4.2 percentage points. The Siena College Research Institute, directed by Donald Levy, Ph.D., conducts political, economic, social and cultural research primarily in New York State. SRI, an independent, non-partisan research institute, subscribes to the American Association of Public Opinion Research Code of Professional Ethics and Practices. For more information, please call Donald Levy at 518-783-2901. Survey cross-tabulations and frequencies can be found at: http://www.Siena.edu/SRI/SNY.