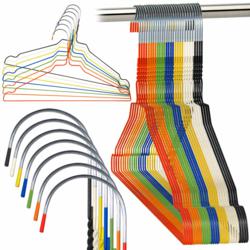 (PRWEB UK) 12 October 2012
Coloured wire hangers are designed to keep any wardrobe looking bright and attractive. Brand new to the UK and exclusive to Hangerworld, these colourful hangers are the perfect solution for those wishing to keep their wardrobe looking tidy and organised.
It can be highly frustrating when trying to locate a particular item of clothing in a cluttered wardrobe, particularly for those that are late for a special event and need to get dressed quickly. However, coloured wire hangers will help to solve this problem, as items of clothing can easily be located without any hassle.
Hangerworld's coloured wire hangers are not only great for sprucing up a wardrobe but also for practical purposes. These handy hangers can be used to easily arrange items of clothing when putting them away after ironing or for sorting out garments for dry cleaning. They are also the perfect solution for those who share a wardrobe with a partner or roommate, as they can be used to easily separate clothes and prevent important garments from being misplaced or mixed up.
Hangerworld's exclusive coloured wire hangers are designed to provide a top quality hanger that is suitable for a wide range of purpose. These attractive hangers can be used in wardrobes or to hang suits, dresses or dressing gowns on the backs of doors or used for commercial purposes. Galvanised and powder coated, these coloured hangers are designed to last for longer. They provide a high quality corrosion-free hanger that will keep wardrobes and important garments looking great for longer.
Coloured wire hangers offer plenty of variety. They are available in black, blue, green, orange, red, white and yellow, so there's a colour to suit everyone. These bright hangers can be mixed to provide a multi-coloured wardrobe or used to colour code clothes to keep wardrobes bright and organised. They are also a great addition to a child's wardrobe and the variety of colours is ideal for those looking for something to compliment their best garments.
Hangerworld's coloured wire hangers come with a rounded smooth hook and a coloured tip, allowing easy arrangement of clothes. They are perfect for keeping important garments such as gowns, shirts, jackets, suits and coats tidy and organised.
Coloured wire hangers are in stock at Hangerworld now, so those that are looking a fresh, new hanger can instantly begin brightening up their wardrobe and throwing out any dull or damaged hangers. These brand new hangers are available in packs of 20, 50, 100, 200 and 450, which is ideal for those who need a few hangers for their wardrobe or for those that require a large number of hangers for commercial purposes.
Hangerworld's coloured clothes hangers are designed to provide everything that is needed to make wardrobes more fun whilst keeping garments neat and tidy.