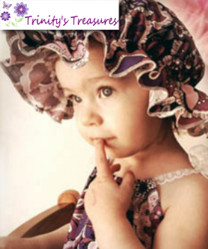 The experience, although taxing at times, has been rewarding.
Mandurah, WA (PRWEB) October 14, 2012
Australia based children's online clothing store, TrinitysTreasures.com.au, recently launched a series of new designs for their popular handmade little girls dresses range. There are currently 12 designs in that range but store owner, Kay Smith, says that customers can expect more attractive designs to come about as the Christmas shopping season edges closer.
Most of the dress designs incorporate bright and colorful floral motifs, a winning formula which has been proven very popular over the years, according to Smith.
"Those (floral) dresses and playsuits are the ones my customers always look for first", Smith said. "But I think there are a couple of butterfly prints and a really cute one with bears at a picnic in there somewhere", Smith added lightheartedly.
Smith assures that her dresses are suitable for both summer and winter wear. They are breathable and airy enough to be worn as-is in the summer. While in the winter, they are best worn over a long sleeve tee and leggings. The dresses are made from 100% designer cotton.
Trinity's Treasures was actually named after Smith's daughter, Trinity. Smith began her business just 7 months after giving birth to Trinity, turning her love for crafts and sewing into a profit making venture. From hair accessories, Smith slowly incorporated children's apparel into her business.
The unique selling point of these beautiful dresses, playsuits and other apparel found on the site is the fact that they are all handmade. Being a mother, Smith says she was always on the lookout for comfortable, attractive, quality clothes for her little princess. She discovered she was not alone in this quest and realized that there was a market for quality handmade children's clothes.
After selling conventionally for a few years, Smith decided to venture on-line, with the help of InstanteStore, to broaden her market.
Admittedly, churning out handmade little girls dresses while caring for a child and running an online store, required excellent time management skills. Fortunately, Smith was up to the task. She credits her husband for the generous support he has given her over the years.
"The experience, although taxing at times, has been rewarding", explains Smith. "I still find the whole process – from searching for new prints to marketing the dresses – very exciting."
To view more little girl dress and playsuit designs from Trinity's Treasures, please visit their site http://trinitystreasures.com.au/