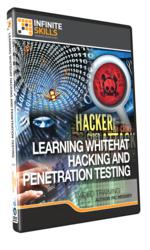 Learn Whitehat Hacking and Penetration Testing with InfiniteSkills
(PRWEB) October 13, 2012
Software training firm InfiniteSkills Inc. have just released Learning Whitehat Hacking and Penetration Testing Video Tutorial, a course designed to introduce technical aspects of elements of computer and network hacking for defensive purposes.
Whitehat, or ethical hacking, is a practice that has grown in lock-step with malicious hacking since the beginning of computer networking. In order to preserve software and protect data, companies, governments, as well as home users, must understand the technical details of how hackers and malicious programs infiltrate networks and computer systems.
InfiniteSkills' Learning Whitehat Hacking and Penetration Testing Tutorial - DVD provides a detailed map of the most important aspects of hacking and network security.
Learning Whitehat Hacking and Penetration Testing Video Training - DVD
Course author Ric Messier is a computer security professional with decades of experience helping large, global companies secure their data and software systems. In addition to running a consulting company, Messier currently teaches network security at the college level and SPIP compliance at the postgraduate level at Brandeis University.
Messier's industry experience as well as his teaching experience make Learning Whitehat Hacking and Penetration Testing Video Training - DVD the best option for quickly tackling fundamental technical concepts of network security.
Students will learn important concepts like what actually happens when a hacker engages with a network, and how to gain information about the target. The course covers important areas such as information packets, tcp/ip protocols, encryption and certificates, scanning and enumeration, and the basics of system penetration, including the use of Metasploit.
Other chapters cover malware, wireless network protection, and the understanding programmed attacks including how to prevent and reverse engineer attacks.
"Students will learn a broad range of material," Messier says. "I try to maintain a focus on hands-on, real-world applications. I'm a big believer in getting your hands dirty with the actual tools as the best way to learn anything."
http://www.infiniteskills.com/training/learning-whitehat-hacking-and-penetration-testing.html | Learning Whitehat Hacking and Penetration Testing Video Training - DVD
InfiniteSkills offers its Learning Whitehat Hacking and Penetration Testing Training Video either as a DVD or a direct download from the company website at a retail price of $99.95. All InfiniteSkills titles and formats are compatible with Mac and Windows operating systems, and shipping is available around the globe. Additionally, InfiniteSkills tutorials are supported by project files which correspond to examples in the videos, allowing users to work alongside their instructors right on their computer or iPad.
About InfiniteSkills Inc.
A leader in the field of software training, InfiniteSkills strives to offer the highest quality training available at an affordable cost. InfiniteSkills tutorials are task-oriented instructional videos, teaching complex skills by providing hands-on examples and guiding users as they carry out critical objectives. InfiniteSkills offers a comprehensive range of software titles available as DVDs, digital downloads, as well as iPad editions—keeping with company aim of delivering professional training to customers anywhere they want to learn.