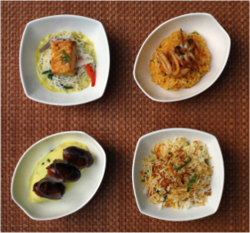 Chef Singh strikes again with another kitchen bible
(PRWEB UK) 16 October 2012
Spread across 288 gloriously glossy pages, Cinnamon Kitchen The CookBook – to be officially published on 10th November – combines authentic Indian spicing with Western cooking techniques.
The result is a bold new direction for Indian cuisine, from Scottish Angus Fillet with Masala Potato Chips to Black Leg Chicken with Fresh Fenugreek, with easy-to-follow recipes that offer inspiring insight into Singh's magical methods.
Also contained in the book are large-format, colour photos accompanying many of the recipes, as well as key technique masterclasses that provide step-by-step instructions to preparing staple dishes such as bread, poultry, meat, fish and vegetables.
Championing the charge of modern Indian chefs, Singh strikes again with another kitchen bible.
About The Author
Vivek Singh is one of Britain's best-known Indian restaurant chefs, and is the man behind the menus at The Cinnamon Club, Cinnamon Kitchen and Cinnamon Soho – three of the most-loved modern Indian restaurants in London. He is also the award-winning author of three cookbooks – The Cinnamon Club Cookbook, The Cinnamon Club Seafood Cookbook and Curry: Classic and Contemporary – and a regular on cookery shows such as BBC's Saturday Kitchen.
What's more, Vivek is largely credited with introducing modern Indian cuisine to Britain, and his signature style combines authentic Indian spicing with Western cooking techniques. Originally classically trained by the India-based Oberoi hotel group, Vivek spurned family expectations to become a chef – now one of London's most respected.