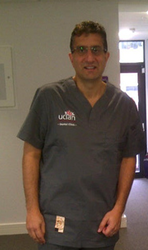 I was surprised to note that the DCS received more than 1800 complaints in in the year to April 2012. That is around 150 per month
Middleton, Manchester (PRWEB) October 13, 2012
Tariq Drabu says that, "We have set up a dedicated team to ensure that good communication is a the heart of everything that we do. Good quality training is vital. We are always looking for ways to improve."
Tariq Drabu leading Manchester GDC registered dentist and the owner of Langley Dental Practice in Middleton, Manchester has today issued a warning to colleagues that they must improve their communication skills with patients if they are to avoid complaints. He was speaking in response to the announcement from the Dental Complaints Service (DCS) that complaints about private dental treatment rose by 17% in the year to April 2012. The Dental Complaints Service (DCS) is a service for private dental patients, set up by the General Dental Council (GDC) separate from the NHS complaints procedures.
Tariq Drabu has also spoken about the improvements that his practice has made in the light of findings and the recent qualifications and training that they have undertaken in order to improve their communication skills.
Tariq Drabu said, "I was surprised to note that the DCS received more than 1800 complaints in in the year to April 2012. That is around 150 per month. I was disappointed to learn that the DCS highlighted that the most frequent complaints by patients related to not being made aware of the likely outcome of treatment or not being offered alternative treatment options. It was also disappointing to see that in some cases patients were given unclear information and felt ignored when concerns were raised."
Tariq Drabu, who was chairman of Bury and Rochdale Local Dental Committee between 2003 and 2006, went on to say, "Quite a few failures of communication do not always concern the dental treatment provided, but instead are quite often to do with the systems and procedures set in pace within the practice, whether that is communication or complaints handling. We have taken this board and set up a dedicated feedback team led by our senior receptionist of staff Kristy Miller. She is taking responsibility for gathering feedback from our service users in terms of overall quality of care. Over the past 3 months we have conducted several audits which have indicated a high degree of satisfaction with our overall quality of service in terms of treatment, waiting times, cleanliness and staff courtesy. However we are not complacent and are always looking for ways to improve our service to our patients."
Tariq Drabu went on to say, "The most important and critical item in communication is managing patient expectations and giving patients information in a format that they can easily understand and can relate to. Patients need to know what treatment they are having, what, if any, alternatives there are and also whether the treatment is being undertaken privately or on the NHS. They also need to know the risks and benefits of treatment and also what the outcome is likely to be if they do not agree to proceed with the proposed treatment. With this in mind all our staff members regularly receive high-quality training in communication skills with patients. Good quality training is vital. This year Kristy Miller our senior receptionist completed a Level 3 qualification from the Institute of Learning and Management and all of our receptionists have recently completed formal reception and communications qualifications. We are thrilled that our staff are always looking to improve themselves and we are delighted at the achievement of these high level high quality qualifications."
Tariq Drabu who is a GDC registered specialist in oral surgery and the clinical lead for the NHS Heywood Middleton and CATS Rochdale Oral Surgery Service which provides primary care oral surgery in practice, pointed out that for extensive procedures a written treatment plan and written consent form were vital.
He said, "In our CATS oral surgery service we have acted upon feedback from patients and we now take time to explain to our patients both verbally and in writing what treatment they are having, how they will feel afterwards and what to expect. These changes and improvements are as a direct result of patient feedback. We also ensure that we take written consent for our surgical procedures, even if it something as simple as having a tooth out."
Tariq Drabu concluded by saying, "I hope that these figures serve as a warning to colleagues that patient concerns and complaints are vitally important and must not be ignored. We at Langley Dental Practice will ensure that good communication is at the heart of everything that we do."