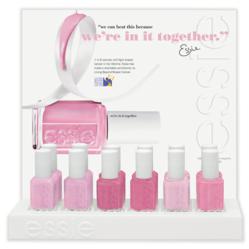 Our company is dedicated to spreading awareness in the fight against breast cancer
Lumberton, New Jersey (PRWEB) October 12, 2012
In support of National Breast Cancer Awareness Month, eNailSupply.com is offering customers the Essie Nail Polish Breast Cancer Awareness Collection 2012. The special offering consists of five special shades of pink, giving breast cancer supporters another way to show their support in the fight against the disease that affects 1 in 8 women. Each color has been given a special name that spreads awareness and hope. The names of each shade include Check up, Good Morning Hope, I am Strong, and We're in it Together. Also available is a special 12 bottle designer display with an inspirational message. To support breast cancer awareness and research, Essie made a charitable contribution to the organization Living Beyond Breast Cancer.
In 2011 approximately 240,000 new cases of invasive breast cancer were diagnosed according to breastcancer.org. Incident rates have decreased steadily over the past 10 years along with mortality rates. Much of this is due to the increased awareness of the disease that leads to early intervention and treatment.
eNailsupply.com spokesperson Sudeep H. Arya stated, "Our company is dedicated to spreading awareness in the fight against breast cancer. We're happy to partner with Essie Nail Polish by offering their excellent products to our customers. Breast cancer is a horrible disease, but one that can be managed if detected early. It is our hope that the Essie Pink Ribbon 2012 Collection will help spread awareness. In addition to the Breast Cancer Collection, Essie has several other nail polish collections including their new Fall Collection. We also carry other excellent nail polish brands such as China Glaze and Zoya Nail Polish."
When asked about the company's nail polish collection, customers were quick to exclaim the quality of the polish and the great customer service received at eNailsupply.com.
K. Wright exclaimed, "This polish is gorgeous. The pigment is well mixed, does not go on streaky, had no trouble with bubbles. This is an opaque color by Essie. Two coats are more than enough for coverage."
Meha Varma stated, "This is that perfect red you're looking for, so beautiful on the nails. Doesn't leave streaks, all it needed was 2 coats + 1 topcoat. This is my favorite red by far!"
Arya goes on to say, "The goal of our company is to help women feel and look their best. The simple act of putting on some nail polish can really boost someone's mood who may be suffering from this horrible disease. It's also about spreading awareness too. If we can impact someone through our products to go get a check-up or a mammogram that ends up saving their life we've done our job."
eNailsupply.com offers customers well over 100 brands of the most popular brands such as China Glaze and Zoya nail polish that either are not offered in stores or cost much more in retail locations. The company offers 100% satisfaction guarantee on all of their products. In addition to nail polish, eNailsupply.com carries beauty products such as curling irons, flat irons, hand and body lotions, and hair removal supplies.
About eNailsupply.com
eNailsupply.com is a an internet-based company headquartered in Lumberton, NJ. The company's mission is to provide its customers with the best available professional products for the hands, feet and nails. In addition to excellent customer service agents, eNailsupply.com employs registered technicians to assist customers in selecting the right products based upon their needs. All orders are backed by an iron-clad 100% customer satisfaction guarantee. To learn more about eNailsupply.com or place an order for Vite20 visit them on the web at http://enailsupply.com/