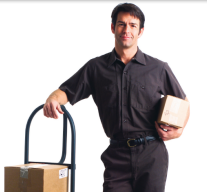 Atlanta, GA (PRWEB) October 12, 2012
AQuickDelivery makes it easy to prepare and ship from your desktop or laptop. AQuickDelivery's online resources make them a proven leader in courier delivery. Same day delivery, local delivery services, AQuickDelivery has the staff and the resources needed to make all shipping and delivery jobs, one, two, three easy.
Log on to AQuickDelivery.com, create an account and give them some specifics about the package or the delivery and they will provide an accurate quote and delivery time frames.
With a proven three step process, AQuickDelivery makes shipping 1, 2, 3 Easy!
Using the quick quote form is the best and easiest way to begin the process. With some simple information added into the form, AQuickDelivery can quickly quote a price and a delivery time frame. Their quick quote form is applicable for same day local courier services and national delivery.
After reviewing the quote, ordering can easily and efficiently be executed either online or over the phone with a credit card. In the time it takes to make any online purchase, the expert and proven nationwide and local courier services can be easily contracted with the touch of a few keys.
As soon as the submit key is pressed, the order is processed and AQuickDelivery specialists are dispatched and the delivery process is underway.
With AQuickDelivery's tried and true process: same day delivery, local package delivery services are a snap. Don't trust just anyone on the web to handle the shipping and delivery of important papers and products, always look for a proven leader who is committed to excellence in the process they provide from start to finish.
AQuickDelivery is an expert in the local and nationwide courier business, with investment in a proven process, all of their clients rely on every single day for their delivery needs. With a robust website at AQuickDelivery.com and a customer service team at 404.888.9999 waiting to provide real solutions real fast.