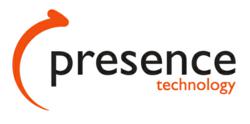 "Our Multi-Channel Contact Center Solution integrates the best offering's from Presence and Voxeo. Empower agents to deliver the best and most efficient customer service". José Luis Castaños, Founder and Executive VP Presence Technology
Madrid Spain (PRWEB) October 11, 2012
Presence Technology, an international software provider of multi- channel Contact Center solutions, will be a proud Gold Sponsor of the Voxeo EMEA Customer Summit 2012, to be held in Berlin October 23rd to 25th, 2012. José Luis Castaños, Founder and Executive VP of Business Development at Presence Technology, will speak on the advantages of the partnership with Voxeo. Voxeo is the leading provider of Unlocked CommunicationsTM and the joint venture offers the latest in End-to-End Hosted Contact Center solutions that uniquely addresses the evolving requirements and challenges of today's mission critical, blended contact centers.
The agenda for Voxeo EMEA Customer Summit 2012 is loaded interactive sessions, case studies, best practices, product updates, workshops, and so much more. Speakers include Voxeo customers across several industries, as well as Voxeo partners and executives. Topics to be highlighted include new trends in customer service, products, and best practices among others.
Voxeo and Presence Technology announced the worldwide availability of their End-to-End Hosted Contact Center solution. Presence selected Voxeo to deliver the Hosted Contact Center solution, which combines Voxeo's best-in-breed Unified Self-Service platform, including its Prophecy Interactive Voice Response (IVR), with Presence's industry-leading contact center software suite focused on improving and streamlining customer service operations. The integrated solution is hosted on Voxeo's highly scalable cloud, already used by thousands of companies worldwide.
More information: blogs.voxeo.com/emeasummit
About Presence Technology
Presence Technology is a worldwide leading provider of multichannel contact center solutions enabling contact centers to optimize resources and increase efficiency in the communications process with its customers. Their award winning software solutions are consistently recognized for quality and innovation, most recently receiving the Unified Communications Product of the Year Award from Internet Telephony. Presence has a portfolio of global clients serviced by a team of highly skilled professionals, and a network of strategic partners in North America, Latin America, Europe, and Africa supporting their efforts around the world.